Nov 29, 2021 06:12 AM Central
Megan Nelson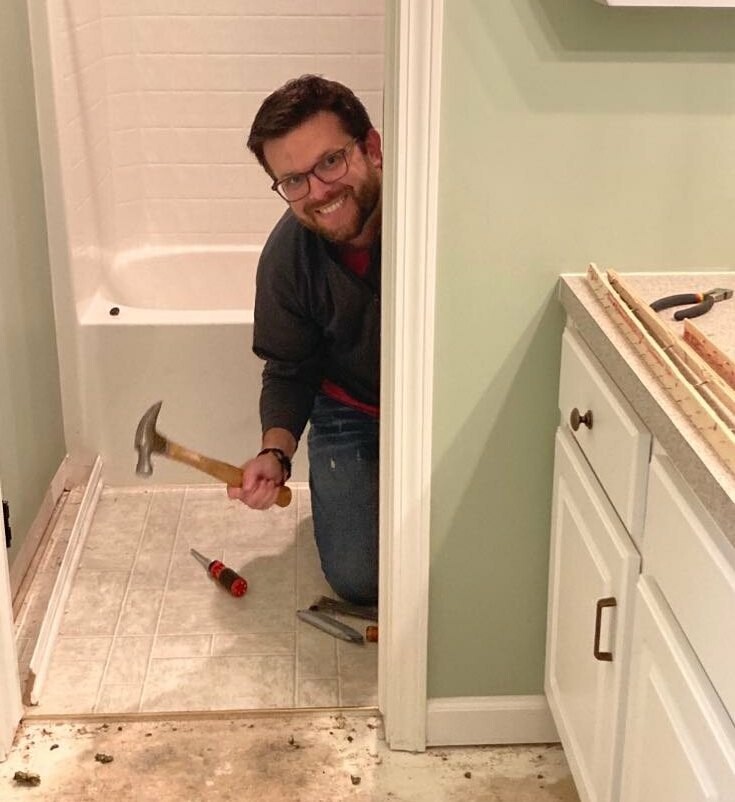 Total Bathroom Renovation for $350
With bathrooms, it's really hit or miss. They are an absolute necessity, obviously--but you usually love them or hate them. Depending on your season of life, you may have different feelings about the bathroom.
Not too long ago, we completely renovated our master bathroom to rip out the carpet, update the lighting, and bring it into this decade to fit our style and taste. But, some days, even though the space functions so much better for our family, it seems TIGHT with all four of us (soon to be five!) in the bathroom at the same time.
With baby Nelson #3 on the way, we knew we needed a change. A bathroom where the kids felt comfortable, and could fully function on their own was the solution our whole family needed.
So, just a few weekends back, we made the plunge. We updated the kids' bathroom that we've been talking about updating for YEARS. Yes, years. And, we're ecstatic that we did. The kids love their new space. It's fully functioning for them. AND, best of all--they are now using their cool, new-to-them bathroom … and NOT using our master bath any longer. WIN-WIN all around here.
And, did you catch that? The whole bathroom was just a one-weekend project, thanks to my super handy father-in-law--he rocks!! Plenty to do, and not a small feat for a one-weekend project. But, my hubby, my father-in-law, and I were able to tackle things pretty quickly and efficiently. Mostly them--I just helped with the finishing touches, selections of hardware, and laid out the flooring. They are the heroes here.
This was a fairly simply update, since we were able to tackle it all on our own. No moving fixtures, or rearranging the layout, just lots of updates.
Our hit list of items to tackle + prices for the renovation included:
Paint -- goodbye lime green, hello muted gray
Cost: We were able to use an existing paint from another project. Otherwise, we score our paint from Menards, the Dutch Boy brand--it's usually cheater, and has a great finish, all with popular colors like you would find at Sherwin Williams, ($24.99/gallon).
Update the Flooring -- the original was carpet -- YUCK!)
Cost: We choose a luxury vinyl tile (LVT) look that we've used other places in our home. It's cost effective, and way cheaper than tile or wood. This was the most expensive portion of our renovation, (about $100 from Menards).
Change out or update the large wall-mounted mirror
Cost: I would have loved to find a big, beautiful, updated mirror. BUT, to find something that would fit our space, mirrors I found were easily $200-$300 -- OUCH. So, we set out to find an alternative that was still cute, chic, and stylish, but cost WAY less. We opted for some thin shiplap we found at Home Depot, and used that as a trim around the full-wall mirror. This, along with the glue needed to mount the shiplap on the mirror, was such a huge cost-savings, and the result was awesome, (about $25 for supplies from Menards).
Update the faucet
Cost: Before the renovation, we had a silver, gold faucet combo that was original to the house. Not a terrible look, but definitely would look extra out-dated with our updates. So, we opted for a great and updated faucet we found on sale, ($29.99 at Menards).
Change out the hardware
Cost: If you've been following along on Facebook or Instagram lately, you may have seen me raving about these awesome cabinet pulls. I found an awesome, updated bronze oil-brushed look for cabinet pulls that look industrial, and are heavy duty. And the best part? They were just over $1 per pull!! I purchased a 25 pack and worked to replace all the cabinet pulls throughout our home, (25 pack for $36.99 on Amazon - we only used 4 in the bathroom).
Shop the look through my affiliate link here.
Swap out the toilet
Cost: Word to the wise here. If you're replacing flooring near a toilet, just replace the toilet. It's a huge update to your space, for not a ton of money, and it saves you the hassle of pulling out the existing one and making sure you don't damage it during demolition. We found a nice and updated toilet from … you guessed it, Menards! This was a bit of a splurge, but we had replaced one other toilet in our home, and it's just so nice -- it even has a slow-close lid, which I love in the kids bathroom, ($140 at Menards).
Update the hollywood bulb lighting
Cost: Our lighting wasn't terrible by any means. But, it was definitely outdated. In our master bath update last year, we opted for a makeshift lighting update that allowed us to customize our lighting without breaking the bank. We opted for the same type of approach for the kids' bathroom renovation to achieve an updated lighting look, without costing an arm and a leg. For this, we purchased an inexpensive, traditional 4-light fixture. I wasn't in love with the globes that came with the set, so we went searching for another industrial-looking attachment that allowed us to strike a farmhouse look for less. In fact, the globes we found at Menards were just $2.50 each. The full lighting fixture was (about $55 at Menards).
Ready for the before and after? You're in luck!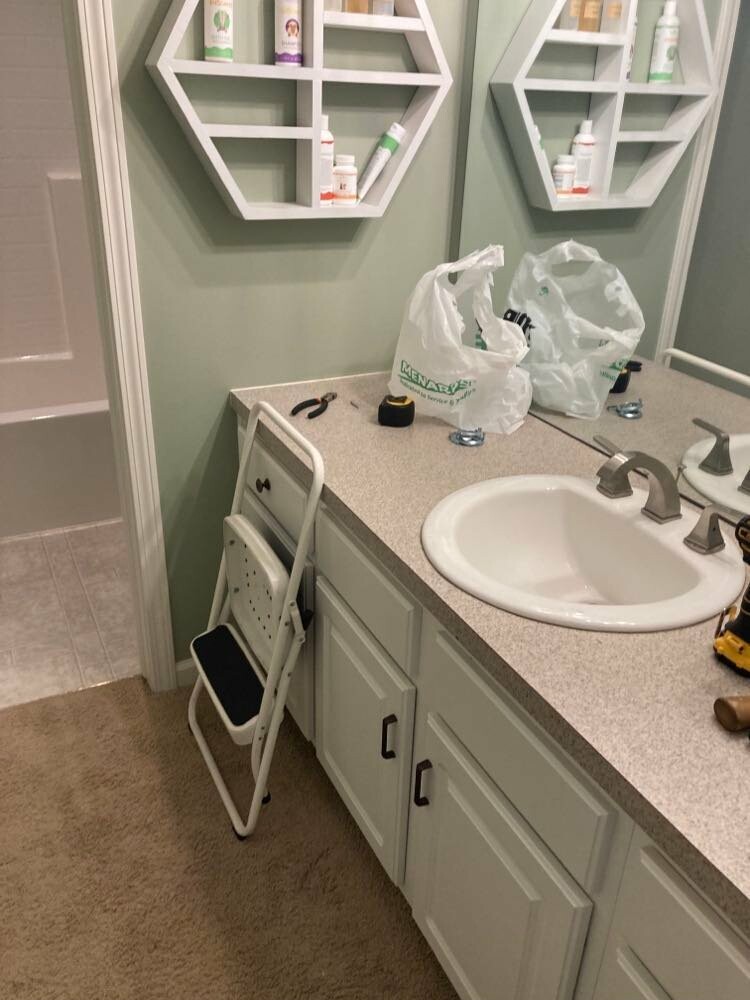 AFTER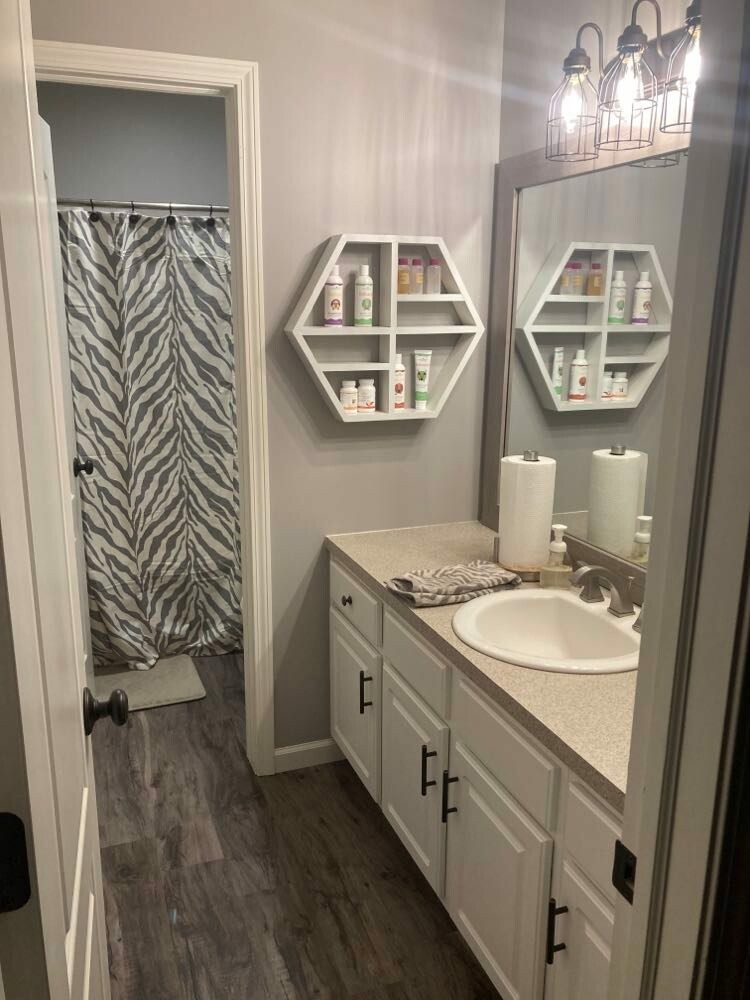 What do you think of the finished product? We would love to hear from you! If you're in need of a little inspiration, that's exactly what we do at Nest with the Nelsons. We're here to help you transform your home, on a budget, all through our personalized, virtual services.
Connect with us today to schedule your consultation. We can't wait to work with you!
Wishing you all the best as you prepare for the holidays ahead!
XOXO Always,
Megan Nelson, Co-Owner + Founder
Nest with the Nelsons
nestwiththenelsons.com
nestwiththenelsons@gmail.com
-------------------------------------------
P.S. Have you heard?! Nest with the Nelsons now has gift cards!
Your holiday shopping list just got SO MUCH EASIER. With gift card denominations for our virtual services ranging from $59 - $179, we've got everyone on your list covered this year.
Here's a quick look at the gift card offerings:
$179 | 60-Minute Virtual Design Consultation (our most popular offer)
$99 | 30-Minute Virtual Design Consultation
$59 | 15-Minute Virtual Design Consultation
Buy one, get a FREE AMAZON Gift Card!
Sale Extended to Cyber Monday! For every purchase of a Nest with the Nelsons gift card between through Monday, Nov. 29, we'll gift YOU a $10 Amazon Gift Card via email. Just another bonus for shopping with us this season!
So, jump online, and make your holiday shopping a breeze this year with Nest with the Nelsons gift cards for everyone on your list. You'll be all set to purchase any remaining gifts with all those Amazon gift cards you rack up, too -- SCORE!