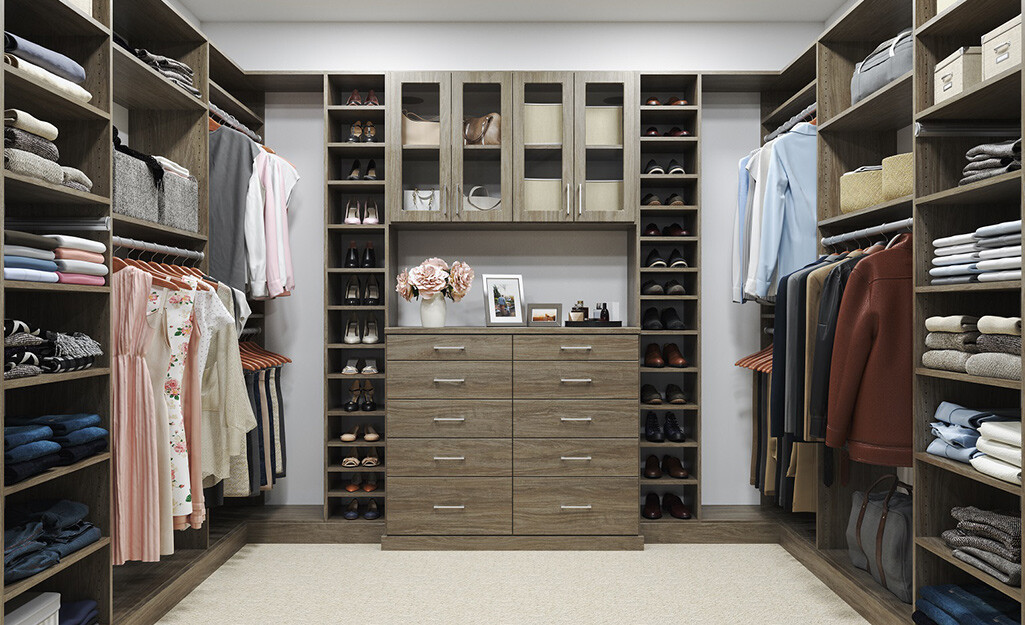 By: Megan Healy, Strategic Communications and Brand Management Intern, Nest with the Nelsons
Just for a second, let's imagine your dream closet. What does it look like? What does it feel like as you walk in? A dream, right? It's time to make that dream a reality. We all know the closet is no small feat. This project requires time and patience, but once it is completed, you truly reap the rewards! The ability to walk into your closet and not be consumed by stress is at the top of all our lists. The best way to redo your closet is to clean it. To organize what you have; you must at least know what you have. Just a warning – that sweater that you're keeping around "just in case," may see the end of its road.
A great way to get an idea of how you want your closet to look, is to simply draw it out. No Picasso-level skills required, just simply a rough sketch of how your closet is now, and how you want it to look. No dream is too big, so feel free to add in whatever components you'd like. Add shelving to pick up your shoes off the ground, add hooks for scarves and bags, whatever you'd like. Don't forget about lighting! This project is about making your life easier, so don't settle for lighting you know you won't like. This visualization is a great way to compartmentalize your goals, but also keep you motivated throughout the project!
Organization is the end goal here, so it's important to focus on the colors in your closet. It is likely you'll have to remove all your clothes and accessories from your closet in order to clean and redesign. Before you put clothes back in, organize them by color. This helps you take note of how many items of clothing you have, and even may help you realize there are some clothes you can afford to get rid of. After everything is organized by color, the next step is prioritizing what items you use the most. Having a pretty closet is great but having one that makes your mornings less complicated is even better.
There's no better time to reorganize your closet than during the season of spring cleaning. You wouldn't want to spend your sunny summer days redoing a closet, would you? Summer brings on spontaneous plans, which makes an organized closet all the better. If you find that your method of organization simply doesn't work, try a new method. Maybe you become lazy with folding and your shelves become messy quickly; in this case try hanging up these items or even just moving their place in the closet. Little tweaks like these can make a big difference.
We thought we'd never say it, but too many shelves can be a bad thing. They're meant to be a helper in organizing, but sometimes they take up precious space that could be used for something else. This is the technical portion of a closet renovation, measuring the walls, hooks, and shelves is important. Replacing shelves with space to hang could create more space than you'd think.
One of the biggest problems with closets is how easily they become messy. It's easy enough to simply throw your clothes in and close the door before it all comes falling out. So, like all rooms, you want to make it easy to clean, so that when the time comes, you don't have to dread the process. It may be nice to look at, but is it functional? The best of both worlds is truly possible but may require a little more work. Create an easy space to put your dirty laundry so that it's simple to access but isn't a spot you can avoid. This includes dark corners, and under crowded shelves. The closer you can put your laundry hampers to the door, the better.
If you're sharing a space, talk to your partner about what you use the most and the least. Make sure you're on the same page of how you'd like the closet space to look, so that when all is said and done you can appreciate the space together. Again, prioritize color coordination and what items you grab the most.
XOXO Always,
Megan Nelson, Co-Owner + Founder
Nest with the Nelsons
nestwiththenelsons.com
nestwiththenelsons@gmail.com


-------------------------------------------


Looking for a little extra help? Check out these must-see resources...