May 9, 2023 01:01 AM Central
Megan Nelson
baby, baby on board, best of omaha, design mood board, healthy interior design, home refresh, interior designer, lincoln, lincoln nebraska, love your home, love your home again, love your home again blog, nebraska mom, nest with the nelsons, new on the blog, nursery, nursery design, virtual design, virtual sessions, we love homes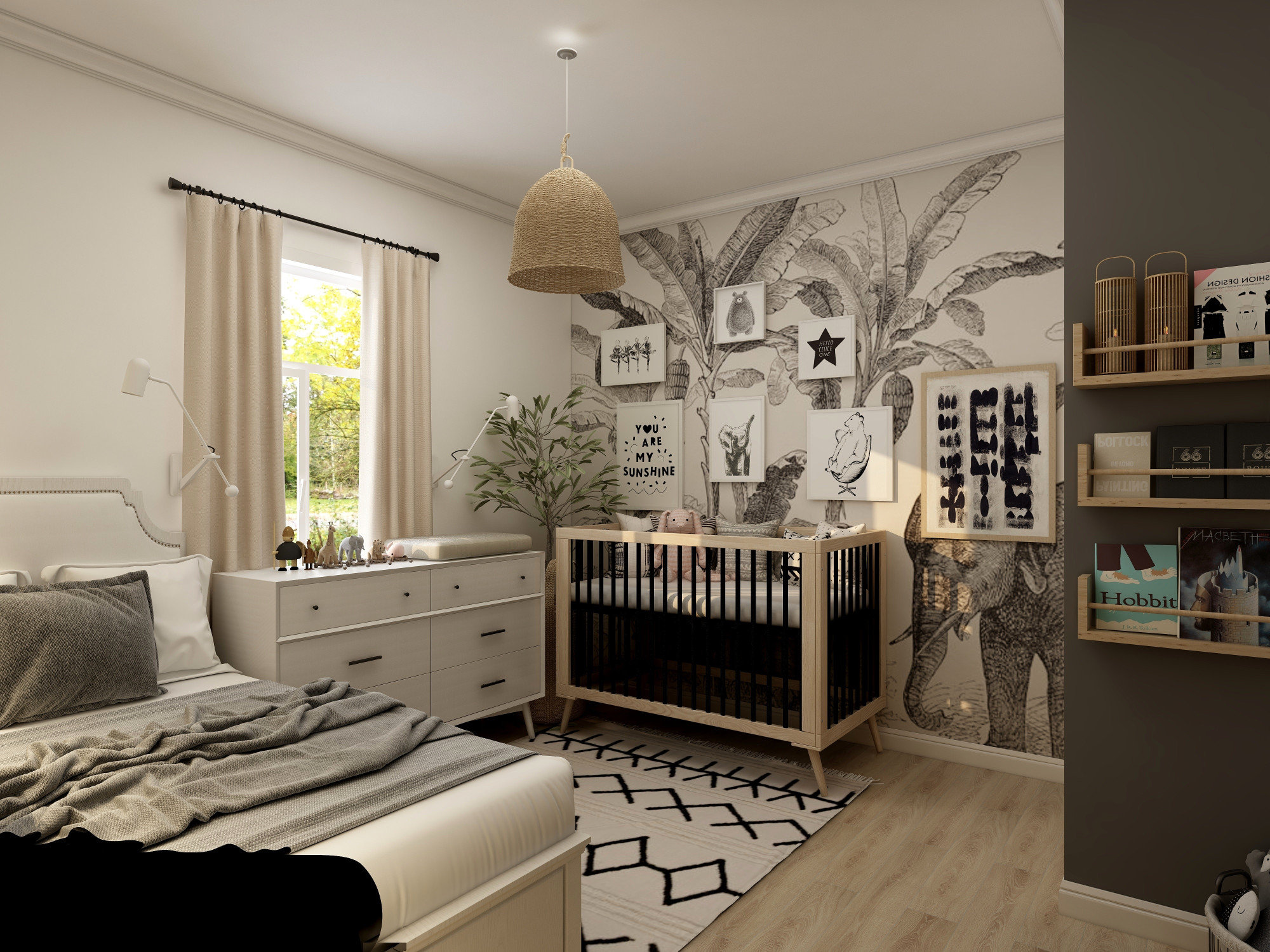 The Secret to Designing a Beautiful Nursery for You + Baby
By: Alicia Hall, Strategic Communications Intern, Nest with the Nelsons
Designing a comfortable nursery is the perfect way to introduce your little one into the world! A nursery is a space that you'll be spending lots of time in, so having an ideal set-up for midnight feeding sessions to play-time can make all the difference when getting through a long day. When designing a nursery, consider how your baby will interact with their room as they grow up, while considering how you can benefit from this space now. Having a nursery that both you and your baby can enjoy will make the first steps to parenting much easier. This article will share tips on how you can design the most perfect nursery for your little one along the way! And, be sure to check out our nursery design mood board to get fully inspired for your newest arrival.
Soft Lighting
Visual comfort is so important for your little one during their development stages because harsh lighting can cause stress and fatigue. Soft lighting in your nursery will prevent overstimulation and eye strain by reducing contrasts between light and dark. Not only is soft lighting visually comforting, but the warm glow that it provides keeps a room comfortable and inviting. A shaded lamp is a great way for glare control, as it keeps light bulbs from being exposed. This will prevent eye irritation and keep your curious toddler away from any glaring light that they may have interest in playing with. A product that works wonders for bedtime is the JolyWell night light. Keep this by the bedside for story time or as your baby dozes to dreamland! Soft lighting can be incorporated in daily tasks by the changing table, at the bedside, or from the ceiling and wall for a cozy ambiance.
Another great source of soft lighting is fairy lights! They come in various shapes, sizes, and warm color features. This can be great for a soft glow when your baby is establishing their bedtime routine. Fairy lights can make for a cozy campfire ambiance when rocking your baby to sleep or for late night feeding sessions!
Colors, Prints, + Textures
When deciding on a color for your toddler, it's great to consider how they'll grow into their room. Babies don't stay babies forever, so having a room suitable for when your little one becomes a curious and oh so cute toddler can help you save on future expenses! Neutral shades are great for these transformative stages because they keep things fresh, while expelling the traditional gender stereotypes of pink and blue. Neutral colors like beige, white, and gray are perfect for a simplistic and calming design. This color scheme works great over-time because neutrals easily go well with other nursery items.
Another trendy option that can make for a beautiful nursery room are playful prints! If you're feeling experimental, fun colors and patterns are an uplifting and reassuring way to bring joy into your baby's life. Playful prints can be a focal point and be mixed with neutrals. This can call for a perfect balance between simplicity and excitement! If you need an easy form of entertainment for your little one, prints will do the job!
Other excellent ways to add to elevate the space are by including the extra embellishments. Just a few ideas to get the creative juices flowing include adding in textures and pops of color in the form of curtains, rugs, throw blankets, pillows, and an ottoman.
Wallpaper + Accent Walls
Speaking of pops of color and playful prints, wallpaper is an excellent way to bring in some fun to your nursery design.
An accent wall can provide effervescence, keeping your baby curious on explorative days.
Wallpaper on just one accent wall would be a great way to elevate the space. Added points for using a peel and stick wallpaper option that can be easily swapped out in a couple of years as your baby learns and grows into their own style.
Blackout Curtains
Blackout curtains work wonders for your baby's sleeping needs. When your baby is first learning their bedtime schedule, it can be difficult for them to adjust to a sleep routine. Luckily, blackout curtains will prevent sunlight from seeping through, helping establish your baby's circadian rhythm! Their circadian rhythm is their physical and mental behaviors within a 24-hour day period. This rhythm they develop includes patterns of sleep for a good night's rest. Blackout curtains come in various sizes, colors, and patterns for all your baby's nursery room decorations.
Plants
Bringing nature into your nursery room will make the space bright and charming! Plants not only produce oxygen, but remove toxins in the air. These benefits make plants the perfect decorative element for your little one! They are naturally elegant and their soft touch in any room will make for a serene and stylish space. Non-toxic plants such as a cast iron plant, parlor palm, kentia palm, and lady palm are a few of many great selection of plants to choose from. They make excellent purifiers and are beautiful to have by the crib or at the corner of your room!
Explore + Most Importantly ... HAVE FUN!
At the end of the day, you're what your little one will be most looking forward to! The key to designing the perfect nursery is by exploring ways that'll make you feel most comfortable. I hope these tips help with what to expect for your baby's nursery and may you find happiness for your next beautiful chapter of life!
Be sure to continue your exploration of outfitting your baby's room with our mood board design complete with all you'll need for the perfect space for baby … AND YOU!
Have a great week + enjoy this gorgeous weather!
Megan Nelson, Co-Owner + Founder
Nest with the Nelsons
nestwiththenelsons.com
nestwiththenelsons@gmail.com
---
Love your home again with our must-have resources ...
4. Are you a business owner looking to reach new customers?
Check out our Brand Partners page
to learn about our brand partner opportunity and secure an exclusive spot with us.