Jan 10, 2023 03:02 AM Central
Megan Nelson
beautiful home decor, best of omaha, interior designer, lifestyle, love your home, love your home again, love your home again blog, luxury, luxury for less, minimalist, nebraska mom, nest with the nelsons, new on the blog, omaha blog, omaha blogger, omaha designer, omaha mom, refreshed, virtual interior design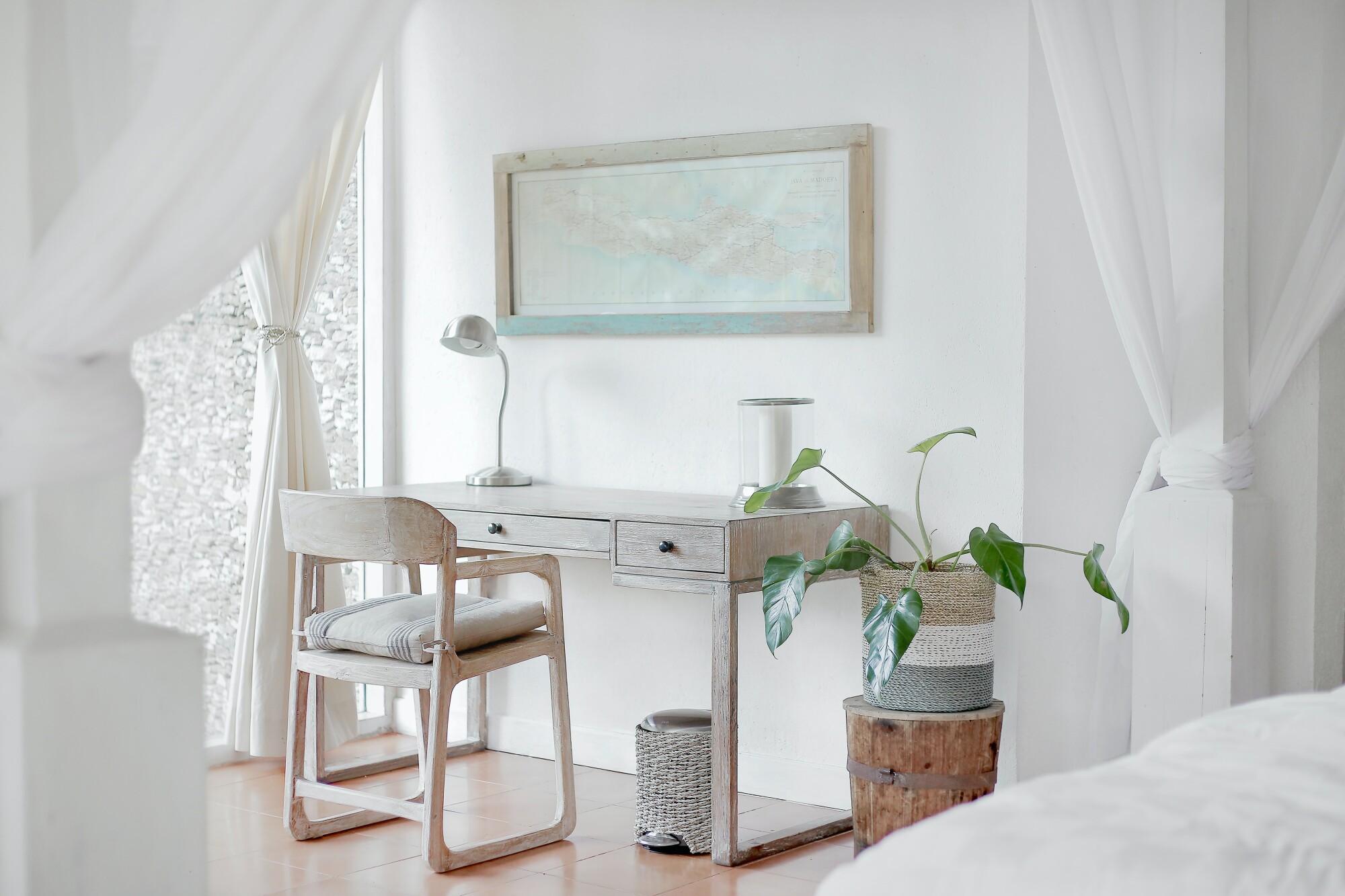 Living a Minimalist Lifestyle
By: Alicia Hall, Strategic Communications Intern, Nest with the Nelsons
It's not uncommon that your physical space is an extension of how you operate in the real world. Living with minimalism in mind can give you the chance to live with less stress and help you focus on current tasks!
Especially with jobs being remote during the pandemic, having a space that's stress-free is important to sustain motivation and freedom. Once you experience the life of a minimalist, you'll have more time for yourself outside of your possessions. This article will give some reasons and tips to living minimally and might just make you fall in love with owning less!
Have you had those moments when you're constantly having to clean up clutter that's been cleared a few days before? You wonder why and how your things become quickly unhinged after taking a good amount of time and energy out of your day to have recently cleared things. If this is something you can relate to on a daily basis, maybe it's time to consider thinking about items you value most and making a stop at the donation center. When there isn't so much to put away, clearing space becomes less of an effort! Having less saves time when you aren't attached to items that require constant maintenance. Being around less gives you more mental headspace and makes you feel better when you have less to worry about. Living minimally will give you the opportunity to relax and to have more energy to focus on life priorities – WIN WIN!
An unexpected side effect of living minimally is saving money that you might as well have spent on things left in your storage bins. Minimalism instills intentionality when it comes to your purchases. It gives you the freedom to choose between items that will genuinely bring joy and purpose into your life rather than simply buying more stuff.
Have you had those moments when you're constantly thinking about your budget after your recent purchases? Minimalism can be the stepping stone for budgeting in a simple, easy, and effective way! When you shop for less, it saves money for you to travel, to take classes for any interests you have, or for any food subscriptions you've been wanting to try!
It even gives you motivation to use that extra time and energy enjoying the outdoors or being with yourself, friends, or family. Minimalism not only saves money, but can potentially elevate your human connections. Instead of thinking of the next trending product to purchase, you might be thinking of how lovely it was to find extra time with the people you love most.
Clutter can be seen as an extension of ourselves since living in clutter makes us feel chaotic. When your household feels overwhelming, you will feel restless. Did you know, clutter will raise your cortisol levels, the hormone responsible for causing stress? This constant stimulation of chaos will make you feel in disarray, forgetful, and overwhelmed. It gets tiresome when personal items are always piled on top of each other instead of conveniently placed where they can be seen. Having less to worry about will help you know exactly where things are and prevent personal items from getting lost. Living with less clutter around gives you the mental capacity to be in tune with your personal goals and life outside your material belongings. A tip for keeping clutter out of sight is by throwing away older items every six months or getting rid of stuff that hasn't been used for over a year.
Decorating Like A Minimalist
After clearing out the clutter, you can start fresh with home decor! Decorating with neutral colors to balance lighting in the house is common amongst minimalists. More natural lighting in your home may call for a white paint color with more yellow-tones, while a home with more yellow lighting may call for white paint color with blue-undertones. Even though neutrals promote simplicity, choosing a color that's pleasing to your personal liking matters most!
When decorating, it's important to embrace timelessness and to be intentional about things you choose to have in your household. Too much in a home can be overwhelming with multiple focal points occurring simultaneously. Prioritize your most essential items and recognize that more is less! Design with space, balance, and order. With these home decor goals in mind, you will have new found confidence in setting priorities outside your possessions, along with fewer distractions around the house.
When it comes to decorating your space, striking a timeless vibe is key! Decorate with intention and with pieces that will last. Investing in quality items will make you appreciate the value of what you do have and owning less will instill peace into your daily life. Living with quantity over quality can make life distracting with constant clutter around you. Find ways to decorate without impulsively shopping, and have fun playing around with space once you have your essentials. You should always purchase necessities with the intention of having lasting satisfaction. Balancing the quality of items with enjoyment will not only bring value into your life, but make you happier. Who doesn't love less work when Spring cleaning comes around?!
Living like a minimalist grants you the opportunity to foster an appreciation for all the little things life has to offer. Less distraction will help you focus on priority tasks at hand, and gives you freedom from material attachments. It's guaranteed that you'll have more time connecting with the world around you. So if you're thinking of giving minimalism a try, remember to embrace less and to live with functionality, space, and comfort. The outcome of living with this mindset will surely be worth your while!
We hope you enjoyed our living the minimalist life article this week, and can't wait to continue bringing you more great content on the Love Your Home Again Blog. Have a story you'd love for us to cover? Send us a note at nestwiththenelsons@gmail.com with your idea, or your burning design questions. We would love to hear from YOU!
P.S. There's really nothing to lose. Book your personalized, easy, and super fun session today before our calendars fill up. We're now booking into March 2023!
Megan Nelson, Co-Owner + Founder
Nest with the Nelsons
nestwiththenelsons.com
nestwiththenelsons@gmail.com
---
Love your home again with our must-have resources ...
4. Are you a business owner looking to reach new customers?
Check out our Brand Partners page
to learn about our brand partner opportunity and secure an exclusive spot with us.