Mar 14, 2023 09:08 AM Central
Megan Nelson
fun fitness, healthy interior design, home design, home gym, home refresh, i work out, love your home, love your home again, luxury home design, virtrual design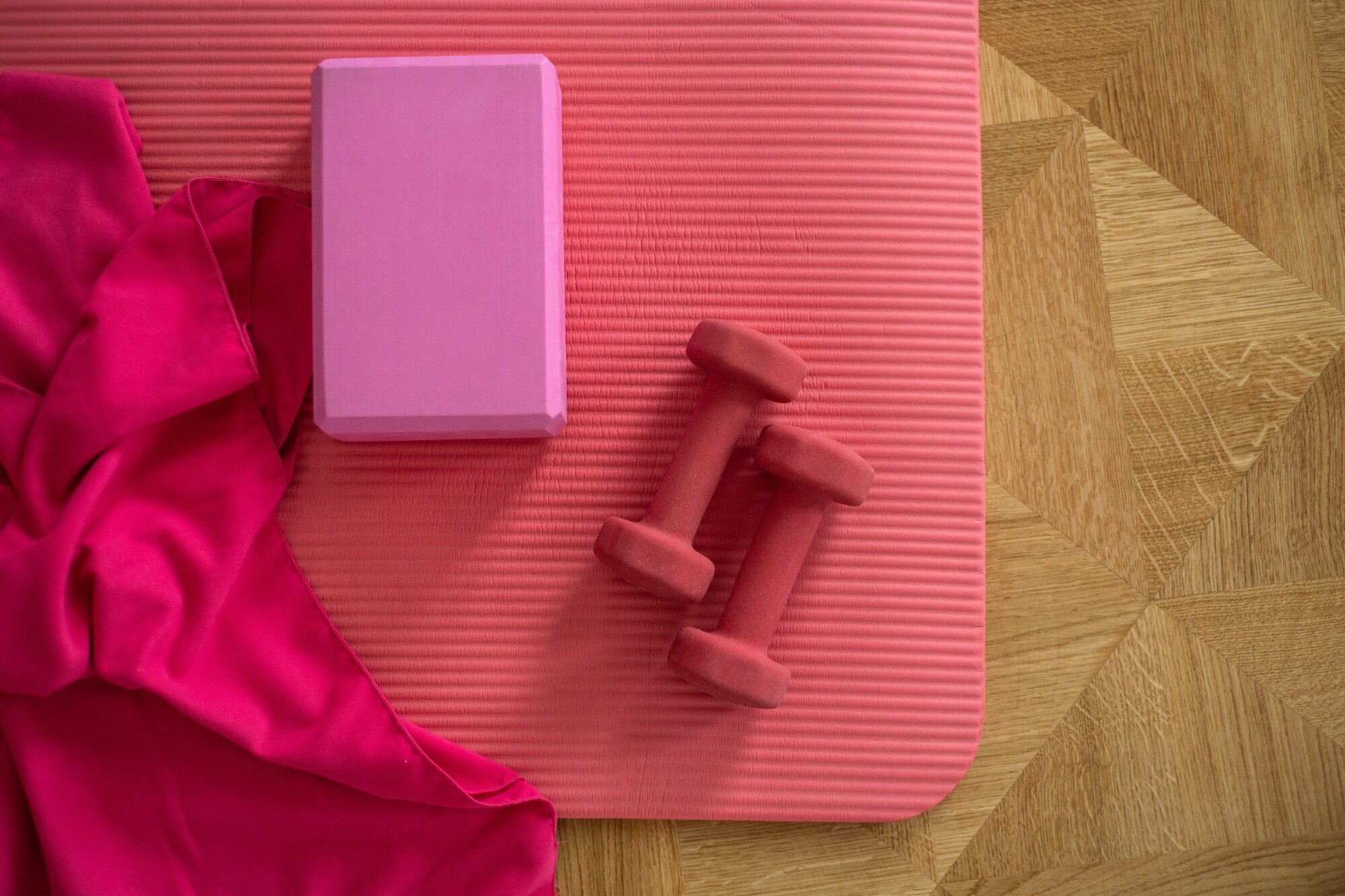 Fun, Fine + Functional Fitness at Home
By: Alicia Hall, Strategic Communications Intern, Nest with the Nelsons
Let's be honest, hitting the gym consistently can be difficult at times – impossible even. When you're in a time crunch to meet all of life's demands, it can be a challenge to prioritize physical activity. However, having a fitness friendly living space at your own convenience can help you achieve your fitness goals easily! A home setup is a feasible way to get your exercise on without the expense of a gym membership. It'll encourage you to prioritize your physical and mental well being! Staying active improves brain function, heart health, quality of sleep, immunity and physical strength. It not only maintains physical health, but has physiological benefits that can help release feelings of stress and anxiety. This article will provide a few tips on how you can stay active from the convenience of your home, all while looking good and enjoying your space while you're at it!
The Perfect Fitness Space
The perfect fitness space will have comfortable lighting and ventilation that'll keep you motivated to perform at your best. Your ideal training center may include natural lighting near windows or a space with easy access to the outdoors! Having fresh air nearby or a cool breeze is great for a relieving cool down session and for those who enjoy exercising outside. A great way to simulate this is by installing a fan. After you find your perfect spot, a visible fitness calendar is a great resource to plan out your next workout session!
The best recipe to success is having consistent motivation. Luckily, your environment can be your inspirational canvas!
Consider accent walls that keep you energized and active. Affordable peel-and-stick wallpaper can give you the opportunity to experiment with a design that works for you without any long-term commitment. It's also a great way to keep your design decor within budget. A wall with a focal point will keep the energy in the room flowing and charismatic. The beauty of your accent wall may even distract you from an intense workout routine, making it easier for you to power through! Dare I say it, your new inspirational decor may make your fitness routine so much more fun and interesting! A TV or computer in your exercise room can also mimic these effects.
Multifunctional Fitness Essentials
A home gym setup doesn't have to break the bank either. A floor mat, some exercise equipment, a full length mirror, and a place to organize your items can make for a functional exercise room. Having pieces in your home that serve a multifunctional purpose for exercise and home life can make a great balance for all your needs.
Here are a few fitness essentials we're loving these days that can work seamlessly into your home:
A pegboard used for wall storage can keep exercise equipment and other household tools. This

storage unit

can especially be fitting for the garage to organize fitness essentials and other necessary gadgets for home repair projects. Extended wall shelving built into your pegboard can store decorations and speakers for a more elevated and welcoming fitness friendly living space.
Peddle your stress away in no time as you meet your work deadlines! An

under the desk bike peddler

works perfect for remote work spaces. This leg exerciser is a quick and easy solution for days when it's a struggle to squeeze fitness into your schedule. Use this handy exercise gadget to make leg day everyday in your office. ✨
Who doesn't love a refreshing and hearty protein shake?! A blender and mini fridge station can be used to whip up a morning protein shake or on-the-go smoothie for work and for exercise. A mini fridge can store premade protein shakes and juices for an even hastier start to your routine! Your beverage station may include storage compartments for water cups and extra towels to enhance its functionality.
Fitness equipment sprawled on the floor can be a tripping hazard – I can't tell you how many times I've stubbed my toe on a dumbbell. An organizer is a must-have to prevent stress. A

storage rack

is a great resource to keep yoga mats, resistance bands, weights, and other exercise essentials in one place. This modern style rack is a durable solution to neatly organize all your fitness needs!
Another organizer that works wonders is a

heavy duty hook-storage

. This will keep mess off the floor and save space in your home. A five minute installation process worth years of renewed tidiness!
A welcoming workout environment will only give you more of a reason to enjoy staying fit. Visible mottos, affirmations, and favorite quotes on display are great ways to provide encouragement. Consider surrounding yourself with family photos and plants to provide a sense of comfort and enjoyment as you achieve your fitness goals. These design ideas will surely blend seamlessly into any room and encourage you to be stronger than ever!
Lastly, be proud of yourself. Staying consistently active can be challenging, especially with all of life's demands. But, if you do give these tips a try, I hope they reach you well and shed some perspective on how you can radiate vitality by staying active in your fitness friendly living space. Tag us @nestwiththenelsons on

Instagram

or
Facebook
to show us your fresh diy training center! Happy planning! ☺️✨
We can't wait to help transform your home!!
Megan Nelson, Co-Owner + Founder
Nest with the Nelsons
nestwiththenelsons.com
nestwiththenelsons@gmail.com
---
Love your home again with our must-have resources ...
4. Are you a business owner looking to reach new customers?
Check out our Brand Partners page
to learn about our brand partner opportunity and secure an exclusive spot with us.