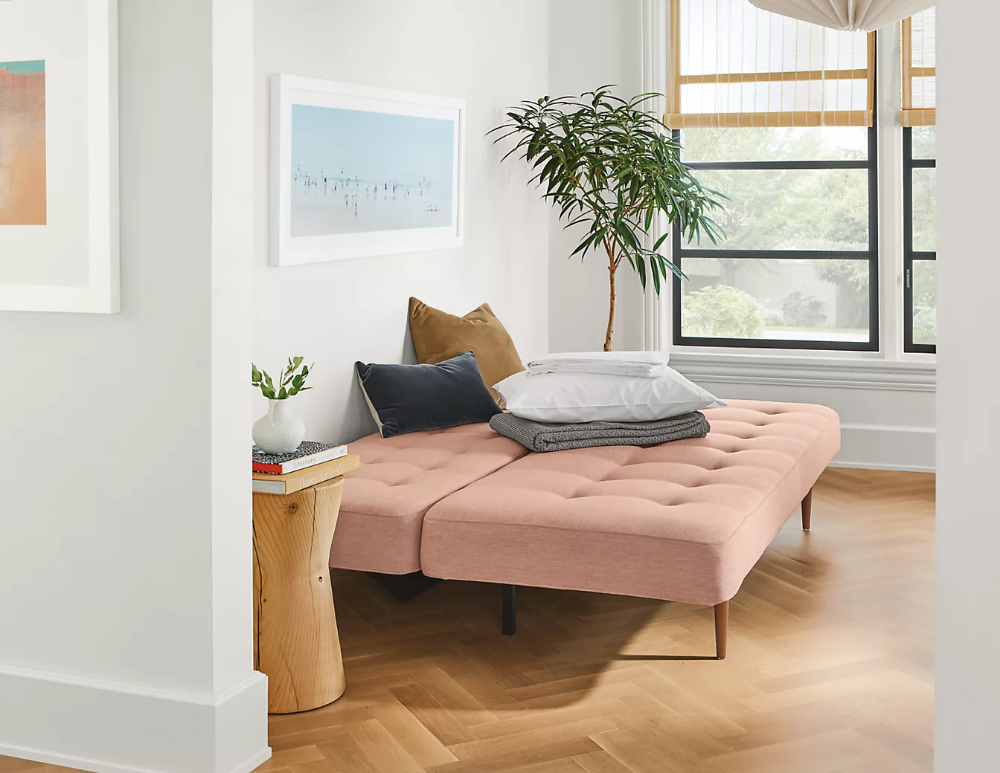 Is it an Office, a Guest Room, or a Workout Room--Oh My!

By: Megan Healy, Strategic Communications and Brand Management Intern, Nest with the Nelsons
OK friends, it's time to make the most of your money and your space. Let's say there's a room in the house that you have multiple ideas for: an office, a guest room, a workout room, you name it. While you'd love to just finally make the call, you're ultimately worried about making the wrong decision. You'd love a workout room, but what if you'd use an office more? And after spending all that money, there's no time for wrong decisions.
The Home-Office-Bedroom Extravaganza
The goal with any room is to make the most of the space. You spent good money on this, and you have full creative control, why not take advantage of it? The most popular combination for a convertible room is a space that you can use for a home office, but also quickly prepare for any guests you're now hosting. It's simple; most people who work also like to have some friends and family over for the weekend. You wouldn't want your guests to feel like they were a last minute clean up preparation, but you also still need your quiet workspace when they're not there. So how do you go about creating the perfect convertible room?
We're going to start with the bed component, because a desk is much easier to factor into a room after all is said and done. There are a couple of different ways to go about this. First, you could opt for two twin trundle style beds. The pull-out function is ideal for saving space in the room. This saved space can be used for smaller décor items that can amplify the feel of an office when you're using it to work from home, but also can easily move them when it's time to pull out the beds. Following the trundle bed idea, finding a pull-out couch is another way to blend the bed into an office. This is a win-win also because it then gives you two places to work in the room: at the desk or on the couch, you choose!
Try to focus the trundle bed in the corner, or if you're going to couch-route, place it directly opposite from the desk. Following the Feng Shui method, placing your couch or trundle bed in this position is ideal for a perfectly laid out room. It strays from being crowded and creating a stressful work environment, but also still allows you to easily set up the guest room.

Check out our Feng Shui blog for more tips!

Any extra furniture, such as a coffee table or shelving, should be utilized for storage items. You can easily store the bedding under the coffee table, or secretly blend in the storage on the shelf with some of your favorite books or family pictures.
If you aren't totally set on what you want to use a certain room for, there's no need to rush in deciding. The "pending room" is for the indecisive who don't want the stress of making the wrong decision and wasting money. Focus this room on storage, but storage that is accessible and easily movable for when you finally make a decision. This would be a good time to invest in timeless, minimalistic storage furniture that will fit in with any room theme or design. This can be dressers, shelving, or anything you have laying around the house that you plan on refurbishing. Try to avoid making this a "throw away" room, because it's all too easy to get carried away in forgetting about it. The last thing we want is to create more stress for yourself.
While you're using this space for storage, try your best to imagine the room completely finished. In your ideal world, what does it look like? Use this idea to control where you're putting the storage now. Again, this makes it easier to convert it and simplifies the planning process little by little. This also helps you to avoid spending all your money on storage items. If you'd love a home office, there's no need to buy bedroom style storage when you're inevitably going to throw it out.
Check out our Pinterest at Nest with the Nelsons for more room inspiration!
Rooms We'd Avoid Combining
There are certain rooms that shouldn't be combined. This is the same as trying to work in bed. It sounds like a brilliant idea, but let's be honest, nothing is going to be accomplished. Psychologically, you're also going to start associating your bed, the place of rest and comfort, with the stress of work. The same goes for convertible rooms. It'd be nice to jump out of bed and hop on your exercise bike, but you may just end up creating more stress for yourself. If this works for you, keep going, you're stronger than most of us! For the rest of us, we'd like to keep exercise, work, and rest separate. It would be ideal to combine your exercise equipment in your home office, as this can be quite motivating. If you need a break from work, you can quickly fit in a workout or maybe even just stretch it out. As long as the bedroom is left alone, the world is your oyster.
Versatility is going to be your best friend in this process. The priority is storage, but it's also important to think about lighting, flooring, and wall color. Versatility also loves adaptability, but you're in luck. Versatile furniture is all the rage right now, and more than easy to find.
Can't wait to chat more soon!
P.S. Are you following us on Instagram and Facebook? You really should. Don't miss a beat, or a sweet design-inspired treat when you follow us at Nest with the Nelsons!
XOXO Always,
Megan Nelson, Co-Owner + Founder
Nest with the Nelsons
nestwiththenelsons.com
nestwiththenelsons@gmail.com


-------------------------------------------


Looking for a little extra help? Check out these must-see resources...