Oct 25, 2022 04:14 AM Central
Megan Nelson
healthy interior design, home refresh, home upgrade, increase home value, kitchen renovation, kitchen update, love your home again, luxury for less, luxury on a budget, necessary changes, nest with the nelsons, new on the blog, virtual interior design, virtual sessions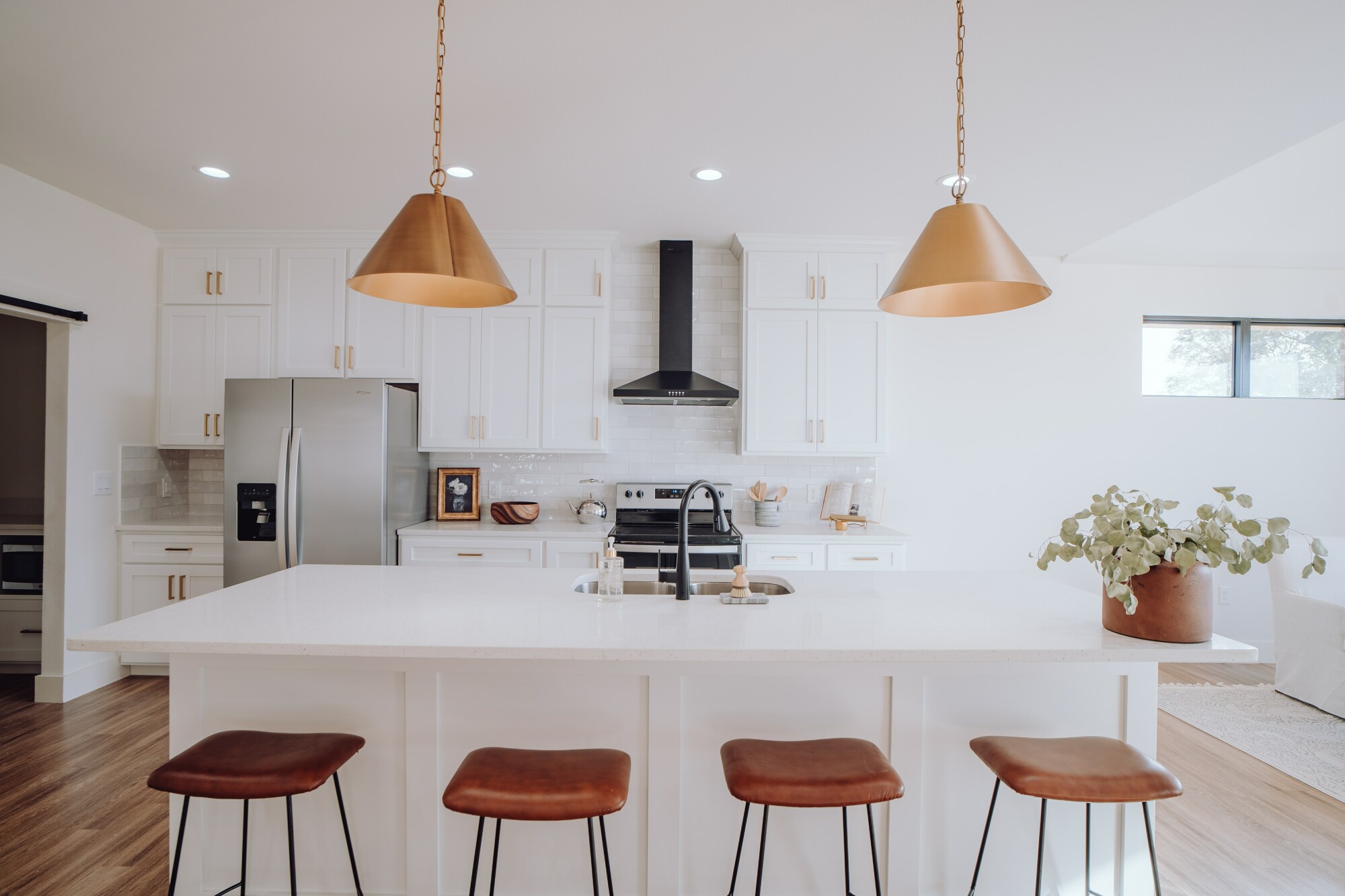 8 Kitchen Reno Tips to Increase the Value of your Home
By:

Mahima Rawat, content team at Orientbell Tiles
Author Bio:

Mahima Rawat works with the content team at Orientbell Tiles, where she creates interesting lifestyle pieces on home and interior design. She loves presenting options to her readers so they can make the right choices when it comes to their home interiors. Flooring and tiles are her favorite topics. Besides interior design, she also loves to travel, play badminton, and listen to music.
---
The kitchen is the heart of the home where you spend a major chunk of your time cooking, eating, spending time with your family, and even working. This is why kitchens are a focal point when it comes to selling your home. An okay living room is acceptable, but if the kitchen is in shambles, you can be assured that the potential buyer will make a run at the first available moment.
But, before you start with the process of renovation, you need to understand that there are certain features that will not only help you upgrade your kitchen, but will also increase the value of it. Here are 8 ways you can upgrade your kitchen and take it to the next level.
There has been a great shift in work and home dynamics since 2020. The pandemic brought in a lot of changes, with working from home being the biggest changes. Even though the pandemic is almost behind us (fingers crossed) most companies have seen how working from home has been a lot more beneficial – from saving on overhead costs to high productivity to high employee happiness are just some benefits of working from home.
While most people are more than happy to work from home, people have had to make changes in their homes to incorporate their new work situation. Earlier the desk at the office was the designated "work space", but now everywhere, from the bed to the sofa to the dining table have doubled up as the work space.
Most of our homes are tiny and it is not possible for everyone in the house to get a separate workroom. So, we adapt and rearrange our existing spaces to perform a double duty. And the kitchen is one such space where you can easily work undisturbed. The island can double up as your desk and the addition of a comfy chair on wheels (that can be stowed away when not in use) is all you need. These tiny changes can not only help you focus on your work (and get you away from the bed where you are tempted to laze during working hours), but can also make your home attractive for a buyer.
2. Demarcate Areas with Tile
With smaller homes our limited space needs to wear multiple hats. With kitchens doubling up as work spaces and living rooms doubling up as dining rooms, it is important to demarcate areas to bring in a sense of distinction in the space. This is especially important in homes with an open plan style of design. You can use a bright patterned tile on the backsplash to separate the main kitchen area from your work area where you can use simpler but complimenting tiles. Or use different
floor tiles
to separate the living area from the dining area. Even using different styles of tiles for each space can help create distinct spaces while adding a touch of elegance.
3. Luxurious, Yet Low Maintenance Quartz Countertops
Quartz has always been a popular choice for countertops and is currently at the top of kitchen trend charts. Quartz has a luxurious look, is comparatively cheaper than granite (another popular countertop choice) and is a lot easier to maintain than other stones. This helps add value to the kitchen – after all, who does not like to have a grand look while doing minimal maintenance?
Aside from their elegant look, quartz also pairs well with most kitchen backsplash tiles. Whether you want to opt for a quirky geometric pattern or a bold mosaic pattern, the quartz countertop will always complement the backsplash of your choice.
4. Kitchen Island – A Timeless Addition
Adding a kitchen island can always boost the value of your home. Most potential buyers are often looking for kitchens with kitchen islands since they add more counter space, add more storage and even help make the kitchen look a lot bigger. Kitchen islands are also considered to be a "safe choice" since it is likely that they will not go out of style any time in the near future.
Yes, adding a kitchen island can be quite an expensive affair, but the benefits and the overall boost in the value of your home far outweigh the initial investment cost.
5. Keep The Functionality of The Space in Mind
While the aesthetic of the kitchen is important, it is even more important for the kitchen to be functional. And functionality is one of the first things a potential buyer will notice while walking around your kitchen. They will check the mobility they can have around the space, the amount of storage available, the amount of light, etc.
While designing your kitchen these are the things you absolutely need to consider. For example, you may have found you may think the perfect floor tiles for the kitchen, but if they are glossy and get slippery when wet, they can be a slipping hazard. Similarly, you may add a large storage unit in order to boost your storage space, but may end up decreasing the size of the passage between the kitchen island and storage unit, making it difficult to maneuver.
While designing the kitchen, instead of focussing on the parts, consider the kitchen as a whole. Is there enough counter space? Is the sink and the hob in the correct place? Do you have enough storage? Is there a way to add more without disturbing the flow of movement in the kitchen? Consider all these questions while you are creating the basic plan and move ahead from that.
6. Go Chic with Neutral Colors
The most appealing kitchens are often neutrally colored. Yes, they do have some spots of bright colors, such as a bright
kitchen backsplashes
, a bright storage unit or even some flowers in a vase, but the overall scheme is always crisp, neat, and neutral.
Lighter colors are gaining popularity in the kitchen, thanks to easy-to-clean materials as well as the advancement in the cleaning supplies that ensure that the kitchen will remain spotless and clean. Colors such as beige, cream, ivory ,and light grey are popular choices for the kitchen, with white being a classic and timeless choice.
When you think from the perspective of selling your home, a kitchen with a neutral color palette is a blank canvas for your buyers to work with and make their own. After all, it is easier to paint over a white wall than painting over a bright orange wall, isn't it?
So, while designing your kitchen, make sure you choose a color scheme that appeals to a wider range of people.
Light is one of the most important elements in a kitchen – after all, you are often working with sharp objects and fire! A bright, well-lit kitchen is always preferred over a dark and dingy kitchen.
While planning your kitchen, ensure that there is plenty of natural light flooding into the space. Large windows and even skylights can help achieve this. The lighter flooding through your space, the bigger your space will look.
If you do not have enough natural light, be sure to add enough other light sources to brighten the space. The choice of lights can vary from spotlights to illuminate specific areas (such as the countertop and the hob), pendant lights over the kitchen island, and well-spaced LEDs to provide lighter to the space.
Using glossy finish tiles as well as sun mica sheets for the cabinetry can reflect more light, further brightening the space.
8. Give Unnecessary Luxury Items A Miss
An ideal kitchen has an aesthetic appeal, is functional, and has a working layout. These are the basic necessities that a kitchen absolutely must have, but you can add other "luxuries" to the space, too, to add more value to the space.
While you may enjoy using these luxuries, buyers may see them as an unrequited facility that they don't really need. Things like underfloor heating, integrated sound system, hand painted cabinets, soft close hinges, expensive doors are some examples of luxurious extras that you may spend a bomb on and your buyers may not care for.
Basically, these are some features that most people can make do without and their absence will not make your home value less. So, only add the luxurious features if you plan on living in the home and using the kitchen. But, if you are renovating the kitchen for the sole purpose of selling your home, it is best not to add a lot of personal preference items to the space.
While there are many changes that can be made to a home in order to increase their value in the market, it is a widely accepted fact that upgrading the kitchen brings in the most value. It is best to set a budget and then work with it. Create a kitchen that will appeal to the masses, is striking to look at, is completely functional, and has enough storage, and you will be good to go.
Get your design right with help from Nest with the Nelsons, and you will surely notice the value of your home instantly increase!
Let's work together today to refresh your home!