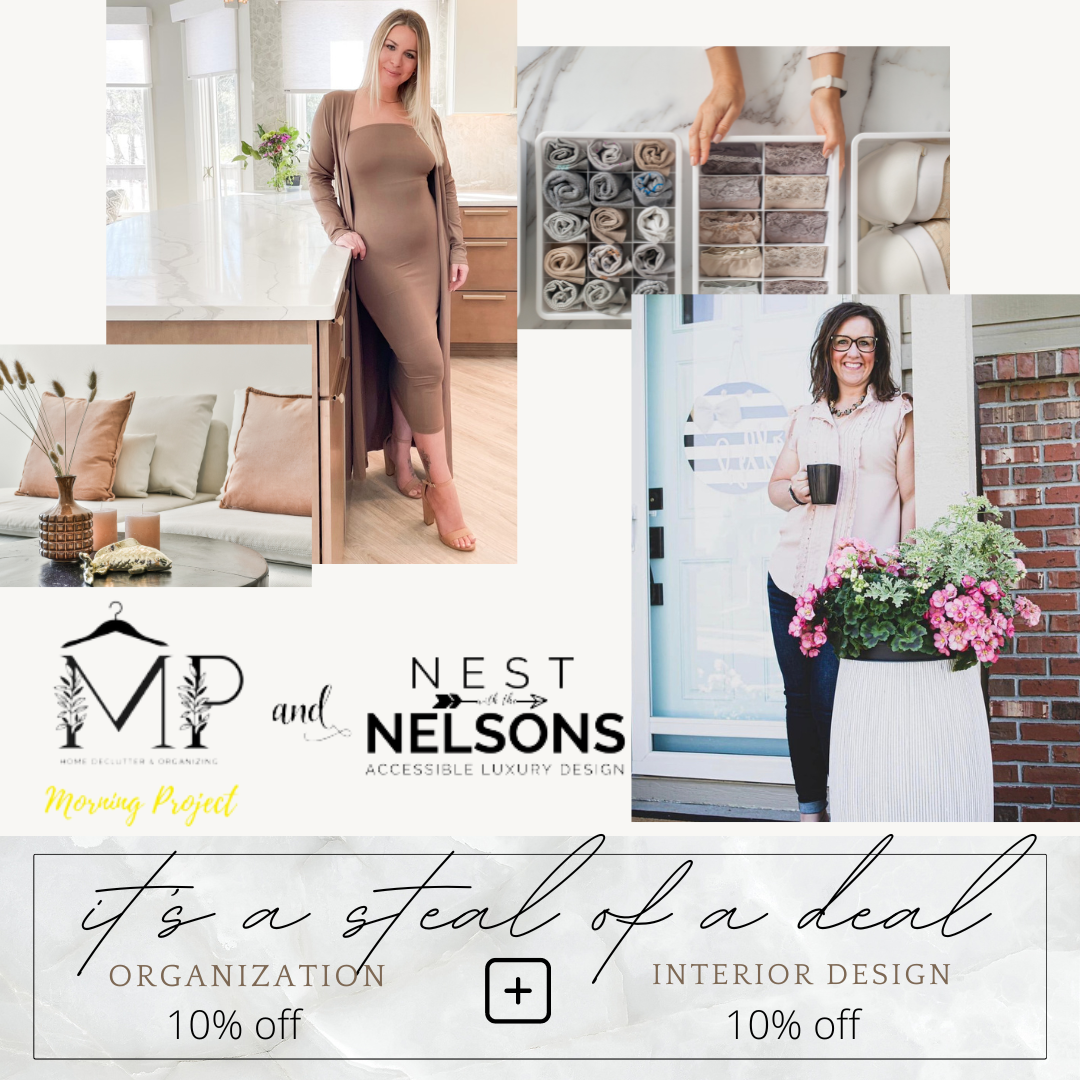 10% Off, A New Package + Introducing Brand Partners
By: Megan Nelson, Co-Owner + Founder of Nest with the Nelsons
The blog is short and sweet this week, but there's so much to share! A special deal for a limited time, a super sweet comprehensive package that meets so many of your needs, and an introduction to our amazing brand partners. This email is packed with a punch. Read on – it will only take a minute!
10% Off Any Package
Now through September 15th when you purchase any package from Nest with the Nelsons and the Morning Project, you will receive 10% off each service. Needless to say, this is a super sweet deal that is just too sweet to skip.
Complete your consultation to work with Nest with the Nelsons today! Let us know in the comments that you would like to double up your service with the Morning Project for the ultimate organization and decluttering experience, and we'll be sure to get you that 10% off of both superb services.
New, One Room, Comprehensive Package
In other news, we're also offering a brand new package complete with everything you need now to transform your home. This new package is just $299, and allows you an opportunity to share your vision for one room, all while getting a complete package customized to you. It even includes shoppable links to make your interior design transformation a breeze.
So what are you waiting for? This brand new package is waiting for you!
Brand Partners Announced
As of yesterday, Nest with the Nelsons just launched our brand partners program. This is a list of exclusive partners who we refer all of our customers to. They are trusted members of our home professionals team, and we are so proud to partner with them.
Feel free to check out the comprehensive list of our brand partners and watch for upcoming ways to learn more about the amazing partnerships and services that they offer our clients. You won't be disappointed!
Interested in learning more about becoming a brand partner yourself? Send us a message today! We would love to work with you.
Pssst ... On Another Note -- Have you Voted for Best of Omaha Yet?!
If you're in the Omaha area, we would love your vote in the Best of Omaha 2023 contest. Voting has begun, you can cast your vote here now!

As a thank you for voting, we're offering 10% off any service now through August 31, 2022.
-------------------------------------------

Love your home again with these 5 must-have resources ...
4. Are you a business owner looking to reach new customers? Connect with us today to learn about our brand partner opportunity and secure an exclusive spot with us. Simply reply to this email for details.