Jul 26, 2022 09:24 AM Central
Megan Nelson
beautiful home decor, book today, friend or foe, love your home, must have, nebraska, nest with the nelsons, oil up omaha, Rugs, rugs make the world go round, virtual services, we can help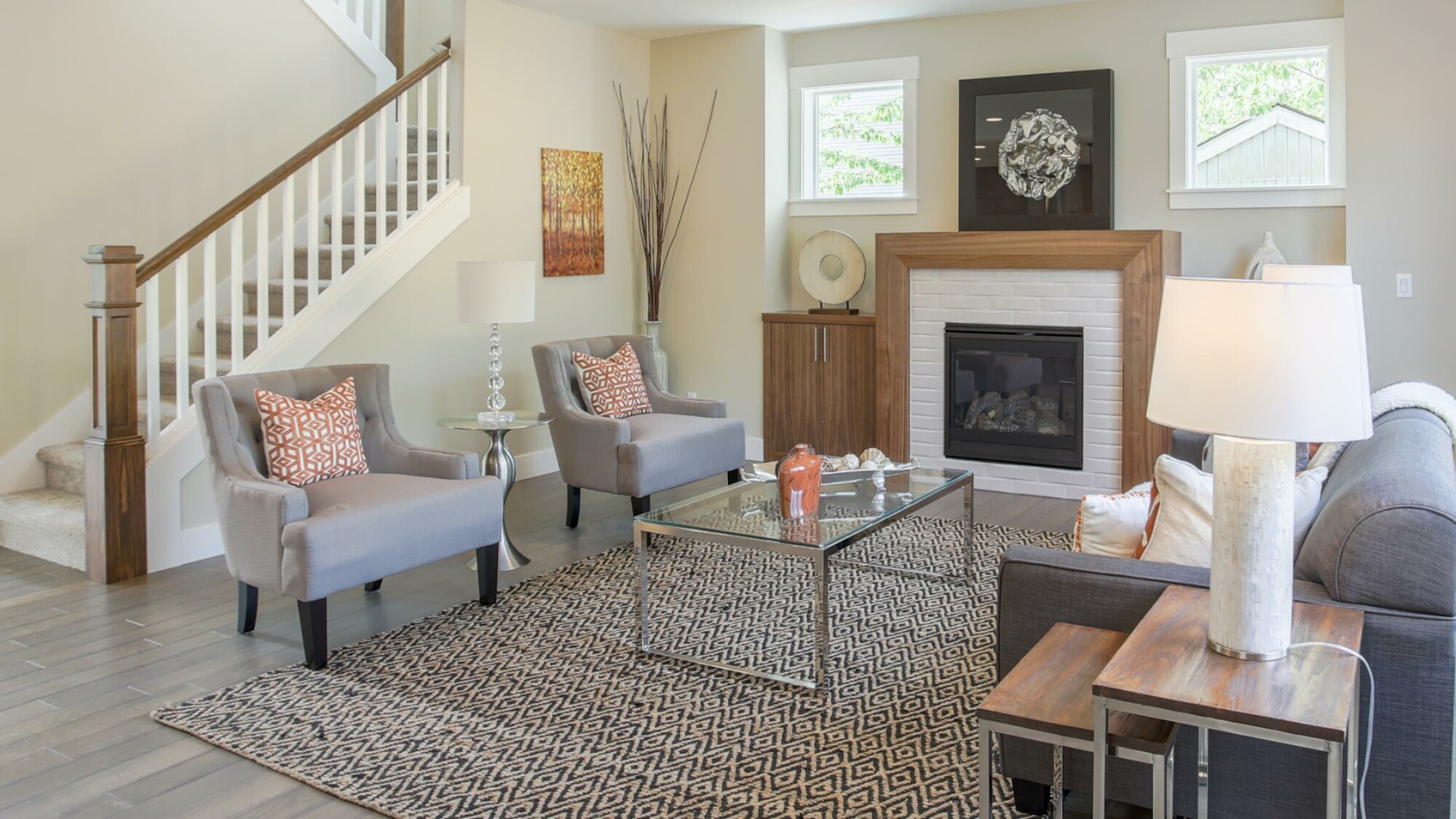 Rugs on Carpet: Major Faux Pas or Total Home Upgrade?
By: Megan Nelson, Co-Owner + Founder of Nest with the Nelsons
The answer to this, and how to select the perfect rug for your space is revealed today on the blog. Read on!
I think many of us have a love-hate relationship with rugs. I know what you're thinking, rugs? Really, Megan? But yes! Rugs can cause homeowners quite a bit of angst.
Whether you're looking for the right style, the right level of plushness, or you're hoping to score a deal as not to break the bank, rugs can easily become foe instead of friend.
A question I'm often asked is if rugs can be placed on top of carpet. So many of us here in the Midwest and throughout the world who have those early 2000s homes, were not blessed with gorgeous hardwood floors. Instead, we've been left with dingy, stain ridden carpet.
If this sounds like your current situation, maybe you're considering updating your carpet, which is an excellent solution for most. But that doesn't mean that a rug can't complement your overall design style.
Rugs are an excellent addition to a home that is carpeted to really bring the look of your space together. Not only do rugs look nice, but they add an element of comfort and coziness. Not to mention, rugs are a wonderful way to add dimension to your space and definition if you have a hard to work with room.
Some things to keep in mind when shopping for rugs include the size, shape, and pile. Obviously, an important consideration is also your budget. Rugs can range anywhere from $20 up to several hundred dollars. So, no matter your budget, there is a rug out there for you.
I'm not going to lie, I've been a bit obsessed with rugs since I have learned how to use them effectively in our space. They bring the whole room together for a relatively inexpensive amount, all while bringing an additional level of comfort and coziness that I was craving in our home.
Size Matters
So let's talk size. This is a huge consideration when shopping for a rug. Oftentimes, I find that clients I work with just choose an ill fitted rug for their space. More often than not, the rug is usually too small for their space … by a long shot.
So remember, area rugs are your friend, but you have to know how to use them. When shopping for a rug, at least the front legs of all of your furniture in that room should sit comfortably on the rug. This is a good rule of thumb as you are doing your shopping. Simply grab a tape measurer and get a rough idea for the shape and size of your room. This should reveal what size rug might be most fitting.
Shape Shifter
The shape of your rug is also super important. With rugs now in shapes of ovals, circles, rectangles and more, there is a fun and inspired rug out there for you. If your space is feeling a little too boxy, consider a circular or oval rug. If you're really looking to define a space, a rectangular rug might just fit the bill.
What Feel Are you Going For?
The pile of the rug is also super important and is based on the usage of your space where the rug will reside. Considerations here include how much traffic will be in the space, is it a main walkway, do you have kids or pets to consider, and are there elderly folks in the home, just to name a few. The overall comfort and coziness elements that you are trying to achieve are also crucial in considering how plush or how rigid you your rug should be.
Have Some Fun
Finally, and most importantly, the style of your rug! Choose something that makes you happy! The rug should be an expression of your space, while showing a little bit of your personal design style. It doesn't have to be loud and obnoxious, but you want to really love this piece because rugs can be an investment. Choosing something that is fun, maybe a little funky, yet timeless is usually where my heart goes when I'm rug shopping.
Enjoy these tips to avoid faux pas when shopping for your home? Be sure to subscribe to the blog today! It is packed full of great tips and design tricks to maximize and truly love your home again.
On Another Note ... Have you Voted for Best of Omaha Yet?!
If you're in the Omaha area, we would love your vote in the Best of Omaha 2023 contest. Voting has begun, you can cast your vote here now!

As a thank you for voting, we're offering 10% off any service now through August 31, 2022.
Let's Chat
Tell us more about your project! We have crafted a handful of packages to suit your needs. If you're still not sure which package might be best, let's connect for a free 15-minute consultation to create the home of your dreams!
-------------------------------------------

Love your home again with these 5 must-have resources ...
4. Are you a business owner looking to reach new customers? Connect with us today to learn about our brand partner opportunity and secure an exclusive spot with us. Simply reply to this email for details.
5.

And, in the meantime, be sure to check ... are we connected yet? Stay in the loop on all of our design offerings. Follow along on

Instagram

and

Facebook.