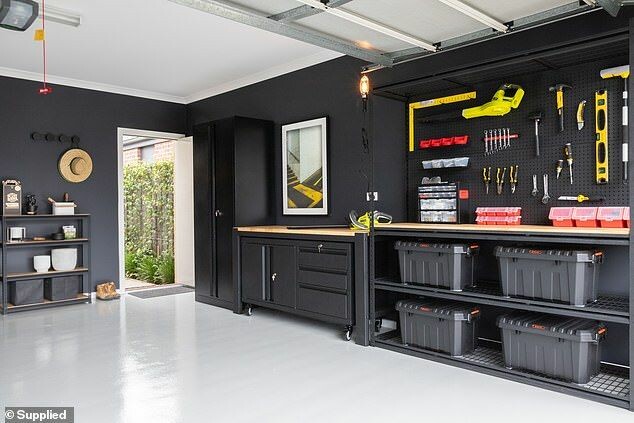 By: Megan Healy, Strategic Communications and Brand Management Intern, Nest with the Nelsons
Summer's coming up, and this is the perfect time to face the beast that is the garage. It's been on your list for years now, why not get it over with? We can answer that for you: it's a lot of work, it's time consuming, and that's just getting up to go to the fridge. Which of course makes even the thought of cleaning the garage a dream. We're going to take you through different tips that can help you tackle this project and not break the bank doing so. So, let's get to it!
As you are probably aware, we love a good goal sheet over here. Before starting anything, writing down what you want completed is the perfect place to start. Write it down (scribbles count), and finalize a budget. The biggest mistake we see people make is purchasing a ton of new storage and cleaning items before looking in their house to see if they already have it. If you need help visualizing a new or cleaned out garage, head over to
our Pinterest
(@NestWithTheNelsons) to gain some garage inspiration.
Another struggle with deep cleaning the garage is figuring out where to put everything. It's a tale as old as time: trying to store your things is no longer a fun game of Tetris but instead a big source of your stress. Take inventory of what you have, what you want, and what you can get rid of. A big tip is to organize your garage by the season. This allows for easy access to your things, but also keeps everything in storage together. If it's July, and you need a winter hat pronto, you'll know exactly where to find your favorite one!
Shelving, Painting, Storage, Oh My!
We can't stress this enough: storage is your best friend. Way too often, we view the garage as our own storage unit, which it is, the only difference is that we have to look at it every day. The disorganization is not a pretty sight as you are starting your day. The point of this project is to finally relax and enjoy the space. What we want to avoid is a surface level deep clean, where the garage looks clean at first glance, but a whole mess waits behind it.
If you're struggling with the layout of how you want your garage to look, we have a great place to start. The placement of your cars and garbage cans is one of the most important, mostly because you are using these daily. We suggest leaving enough space for you to comfortably get into your car, as well as leaving enough space so you aren't at risk of a few bumps and dents. The same goes for your garbage cans. The last thing you want is being frustrated getting in and out of your garage. If you're lacking ground space, you can also build up. Further down, we have recommendations for wall hooks and more. Making space for everything seems impossible but is more than achievable!
We've mentioned this before, but spring cleaning can be made fun because of the shopping that comes along with it. Whether that's buying new furniture, new décor, or in this case new cleaning tools, it's the perfect excuse for you to shop your favorite stores all while saving money and crossing projects off your list. The first product we want to recommend is a broom. Once you've gotten everything out of the garage, or at least off the floor, you're going to want to give it a good sweeping. This
Yocada Broom
is perfect for someone shopping on a budget but still wanting to get their money's worth.
Like we said, if you're out of space on the ground, the garage is the best place to hang things. We want to recommend these
Wall Hooks
from Amazon, which are more than affordable, and they do the job perfectly! Along with the hooks, we love these
Cord Organizers
, which you won't know you need until you're standing with 15 feet of rope or cords in your hands. They fit on the hooks, too, making these two a well-matched combo!
How to Get Rid of Stains and Other Things
What about the floors and walls? We've got you covered. A prized possession for many avid garage cleaners is going to be a
pressure washer.
This will clean the floor in a way that will have you wondering why you never had this tool before. The pressure washer is an investment, though, so how about a more affordable alternative! This
dust mop
will do just the trick, along with some warm water and vinegar, which is especially helpful for the rust and dirt that seemed to be stuck. Try it out and see what works best for you and your space!
The garage is the easiest place in the house to neglect. There's no judgment if it's disorganized or all together messy, but wouldn't it be nice to be the house with the cleanest garage on the block? Use these tips, as well as some from our other blogs to make the process easier!
Once you're seeing more clearly in your garage, perhaps it's time to rethink your home, too? When you're ready for a refresh, we're ready to help you every step of the way – all while working within your budget.

XOXO Always,
Megan Nelson, Co-Owner + Founder
Nest with the Nelsons
nestwiththenelsons.com
nestwiththenelsons@gmail.com


-------------------------------------------


Looking for a little extra help? Check out these must-see resources...