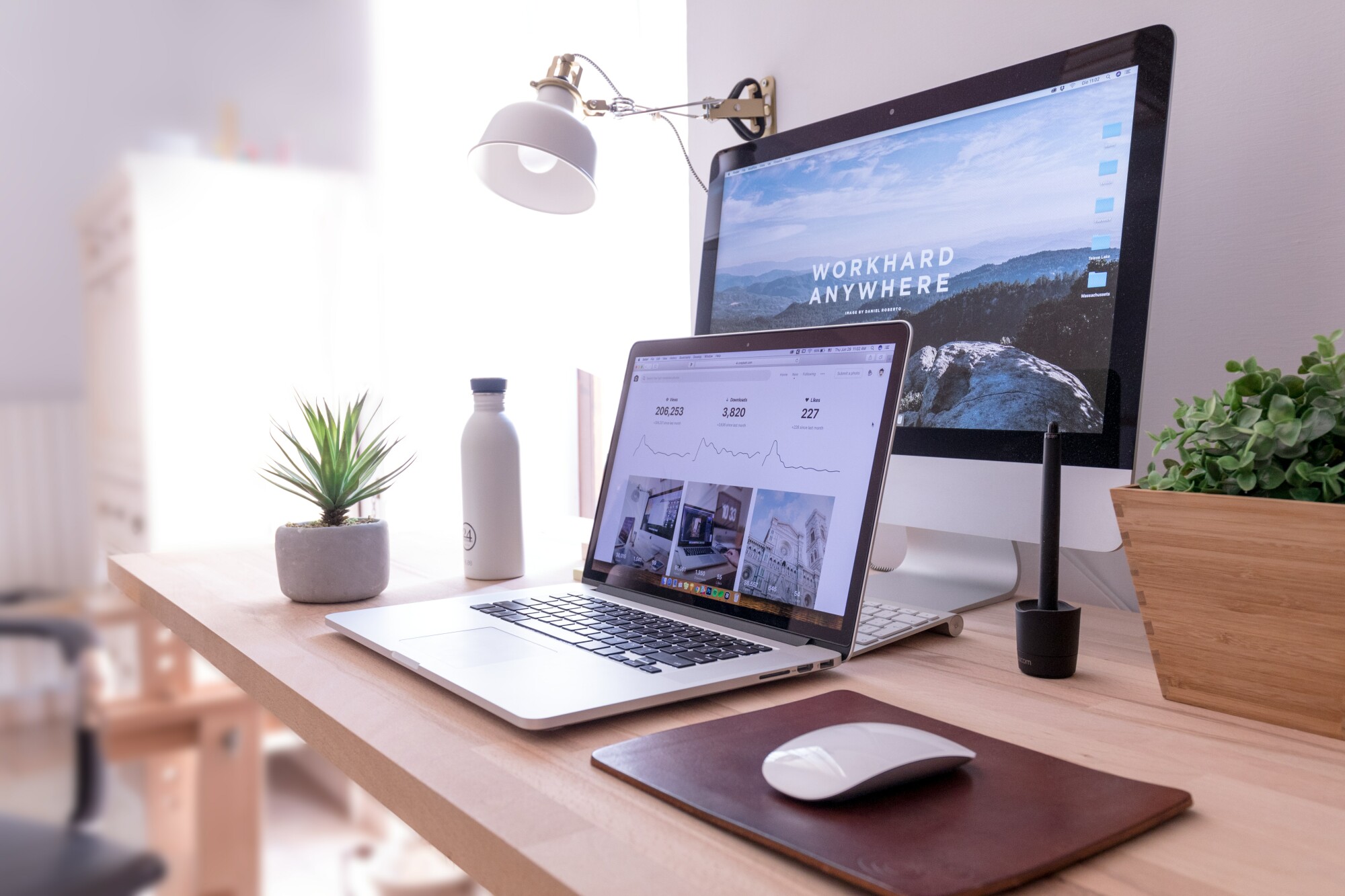 The Ultimate Home Office Refresh
By: Alicia Hall, Strategic Communications Intern, Nest with the Nelsons
Let's be real, working from home can be distracting. With a career providing financial stability, it is essential that your working needs are prioritized. Remote work has only increased throughout the pandemic, so it can be difficult to find a balanced work-life fit. If you're having trouble staying focused in your workspace and feel stressed during daily home activities, it may be time to freshen up your home design!
Working hours at a time can tire you out, so having a work space that uplifts, energizes, and motivates you to complete your project before the next big deadline is so important! Just as we strive to keep mental and physical health a priority, the environment we live in should be taken care of to nurture our daily needs. This article will provide tips on ways to freshen up your remote workspace so that you can stay focused, motivated, and on task.
There are various spaces that work well for different people. For some, an open space can feel more distracting than a smaller room. For others, a workspace set up like a conference room may be necessary to give those an ideal space for coworking opportunities. Understanding what enhances your levels of productivity and being self-aware of your workstyle is essential to creating your most ideal work space. You may think of your favorite cafe or study hall in school that kept you highly productive and engaged. If you have one of those places in mind, try to incorporate similar elements from those environments into your office setup at home!
Separating your office space from where you kick back to relax can help with motivation whilst you work. It's natural to associate certain spaces with feelings you have in them, so if you're in a space that is designated for only work activities, this may help with levels of productivity. Simultaneously having a separate space in your home for relaxation may help prevent feelings of stress associated in these other areas. Keeping boundaries between these parts of your life can promote a sense of calm and responsibility, while reducing overall stress in the long-term.
If you're working long hours at a time, your work desk may need to be positioned by a window with natural lighting. Good lighting can sustain focus and increase productivity. Headaches, eyestrain, and blurred vision can be avoided when you have good lighting as you work. If you can't set up your desk by a window or are simply working late hours,

a lamp with a gooseneck

has great flexibility for all your lighting needs.
Plants are another great way to brighten up your space, and promote a sense of calm to your nervous system which can be a saving grace during times of stress. Decorating with plants not only helps with mental health, but will be a charming perk to your home design as well!
The color that your office is painted (or not!) can make a big difference, too. Incorporating colors into the design of your office space can truly make or or break your space. If your office does not have much natural lighting, and seems a bit drab, painting a brighter, yet warmer white might do just the trick to brighten up the space. If you're really in need of an energetic kick, try bright and cheery, bold colors like an eclectic yellow, orange, or happy and uplifting shade of blue or teal. Each of these colors can provide a swift kick in the pants to your mood, resulting in major boosts of motivation. Interested in adding in some color,

check out our latest article on incorporating bold pops of color

you should consider.
Having a tidy office setup helps keep your mind clear from distractions, too! When your space is messy with various supplies, paperwork, or miscellaneous knick knacks, it will be hard to concentrate. The best recipe to success is setting yourself up in an environment that reduces stress and anxiety. Clutter does not only impact your physical space, but can disrupt your mental and emotional health. A great way to prevent office mess is by having a place for everything in organizers and file drawers. If there's too much paper clutter around, keep only relevant paperwork nearby and avoid printing things that are unnecessary. Strive for a clear work space, so you can focus on your next task! Put things back where they are supposed to be, prevent under the desk clutter, and keep items that are beneficial to your working process. It's easy for items to accumulate when you're working hard everyday, so don't stress if this is something you're struggling with. Keeping essentials close will not only lighten up your work space, but provide ease to your work routine.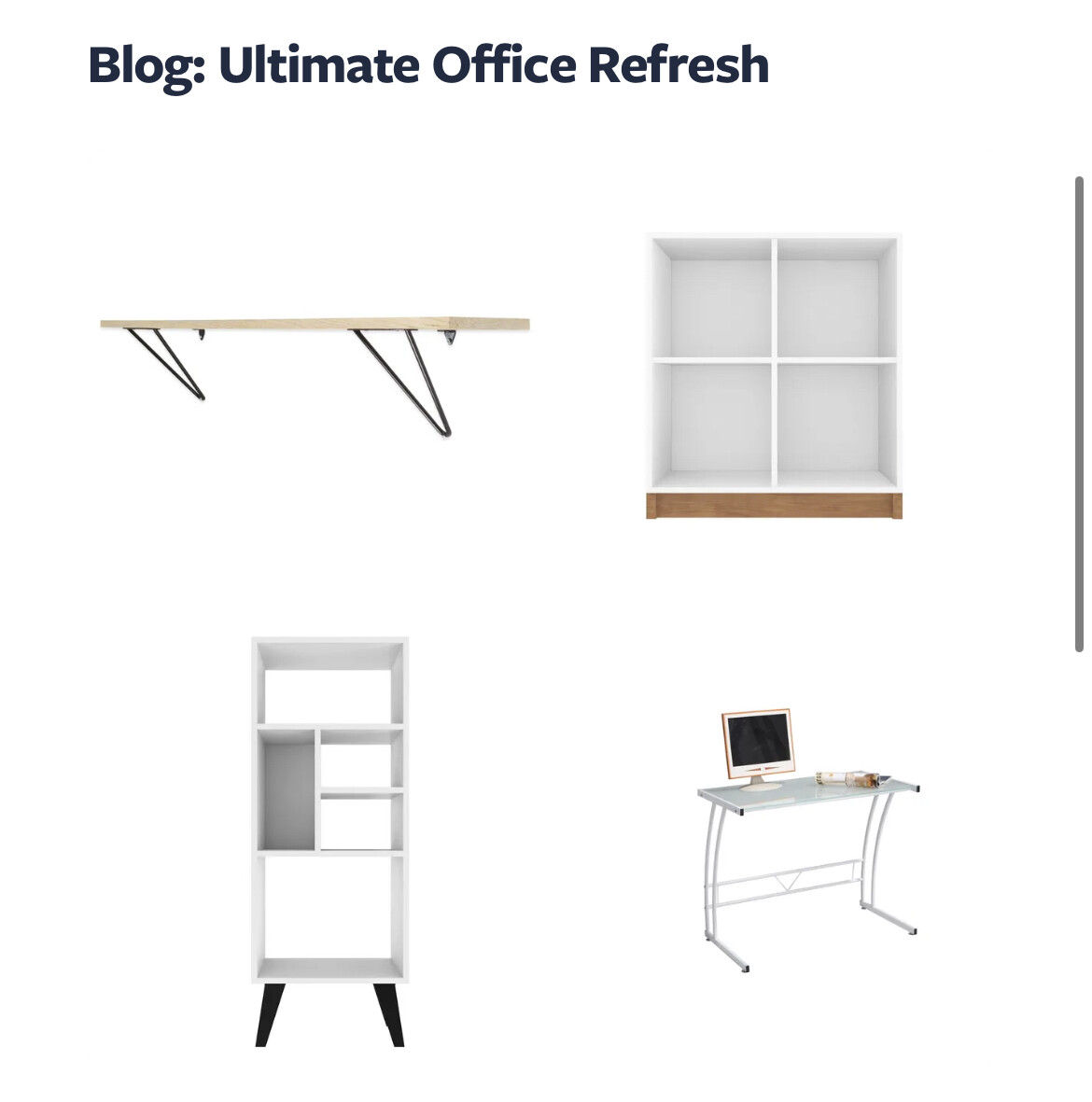 Taking Breaks
Lastly, it's important to take breaks from your office space when you can. Having a place to escape is essential to a healthy work-life balance. A nice stroll in the park or spending time with loved ones can help energize you for the beginning of a long work week! Remember that making yourself a priority will nurture mental health and is just as important as the physical surroundings that bring motivation to your daily life.
I hope you enjoyed these tips to freshen up your home office and don't hesitate to tag us on Instagram and Facebook @nestwithnelsons to show us your newly updated and motivating look! ☺️ Really, we'd love to hear from YOU!
And, when you're in need of a little extra help on your home office refresh -- we're here to chat through your one-room project, or your whole home makeover.
Wishing you a great, productive, and refreshing week ahead!
Megan Nelson, Co-Owner + Founder
Nest with the Nelsons
nestwiththenelsons.com
nestwiththenelsons@gmail.com
---
Love your home again with our must-have resources ...
4. Are you a business owner looking to reach new customers?
Check out our Brand Partners page
to learn about our brand partner opportunity and secure an exclusive spot with us.