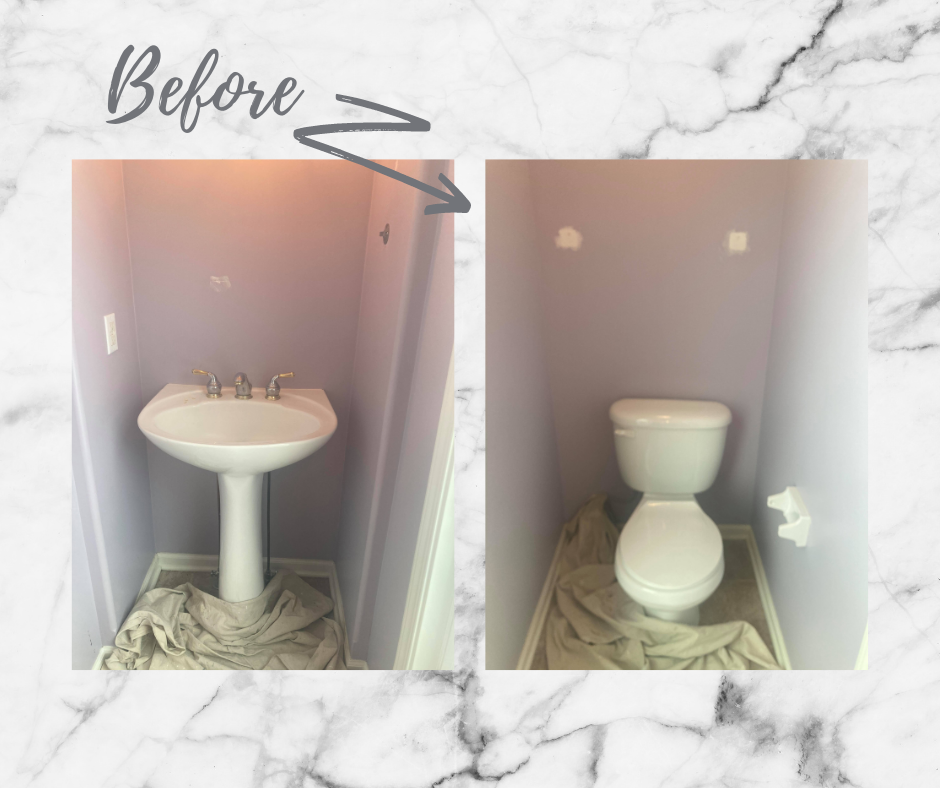 Before + After: Powder Room Edition

I'm beyond excited to share our powder room makeover. It was such a fun project, and one that we've dreamed of tackling for years now.

Welp, we finally made the plunge and jumped into the renovations … and the results were even more fun, inspired, and decadent than we imagined.

But, before we dive in, an important note here … when I say powder room, I'm sure most of you think of a mid-size bathroom on the main floor of a home. No tub, no shower, just the necessities for a bathroom that's used frequently.

But, in our case, this powder room is a new version of teeny-tiny. It's barely three feet wide, and does not offer any extra wiggle room. NONE! Oh, and there's no storage … at all.

So, now that we've set the stage for the tight space, let's get into the renovation.


Before

When we moved into our home, the powder room was a lilac pastel color that looked like it was straight out of your grandmother's house. It had no extra embellishments, boring lighting, a very standard oval-shaped mirror that was nothing to write home about. But, what it did have was a 1920's looking pedestal sink topped with silver and gold faucet handles. Yup, silver and gold. One bright, harsh-looking metal was not enough.

These are actually the faucets that lurked in every bathroom in our home. Needless to say, I was on a mission to change them out over time, and they were mocking me at every turn. This is a story for a future blog post.


After

Now that you know where we're coming from, let's dive into the goodness of the current state of our new and improved GREEN powder room.

Yes, I said green. It's like a royal, emerald green that you might find in the Wizard of Oz. In case you didn't know me as a child, this was my FAVORITE movie, so perhaps that's what inspired the bold (and unusual for me) color choice. But, I love it!

Perfectly complementing the bold choice of the green, we switched out the boring canned light above our sink for a decadent, diamond-shaped industrial looking pendant with an Edison bulb. We swapped out our roaring 20's pedestal for a traditional and farmhouse-inspired vanity (with storage—score!) that's topped with a nice gray-speckled granite counter top—it's so me. We found brass nickel-finished faucets that were all of $30, and called it a day.

And, of course, the décor! It was so much fun completing our project with still an oval-shaped mirror, but one with a bit more opulence, cute farmhouse-chic pictures, and a magnolia-inspired wreath made of lambs ear, that I added some beaded fringe to in the middle. We rounded out the renovation with a sign that meets our family vision perfectly right now that reads, "Live simply."
Our Bathroom Now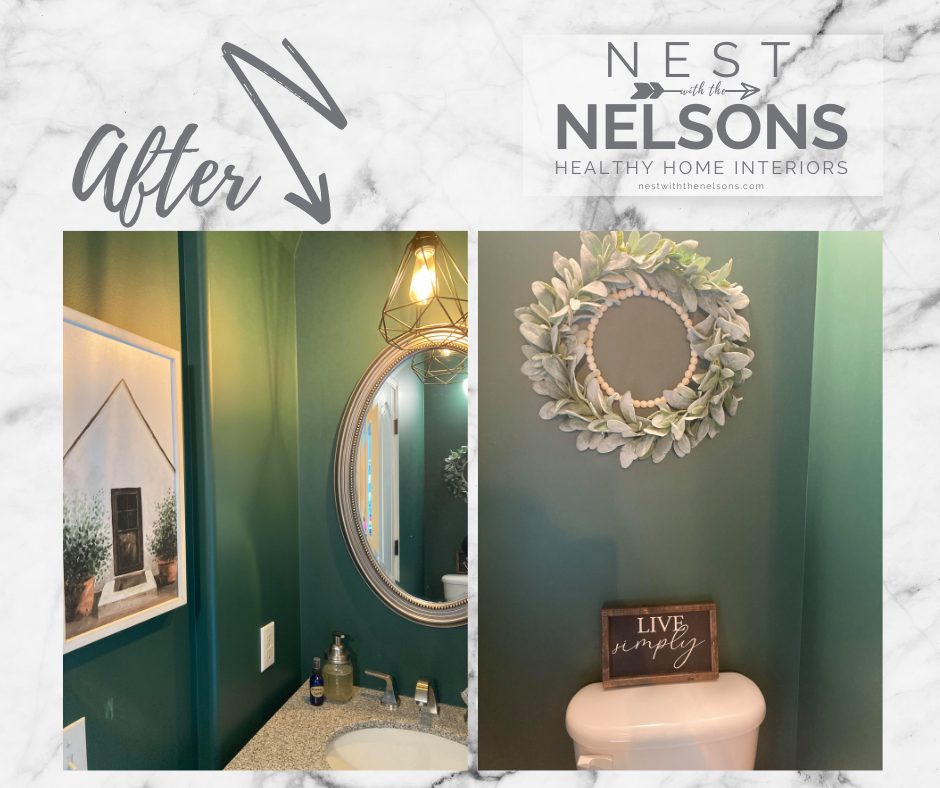 Have you tackled a home DIY renovation of your own lately? We'd love to hear from you! And this is exactly how we serve our clients—by helping you think through your space to make it fresh, new, and inspired—all while functioning more optimally for you and your family right now.

So, let's connect! We can't wait to work with you to transform your home (or just that one room that's got you all hot and bothered) to make it all that you have ever imagined. Did I mention our services are super affordable and customized to meet your specific home needs?

Sound to good to be true? Check it out for yourself. We have a good feeling it's just what you (and your home!) has been craving.