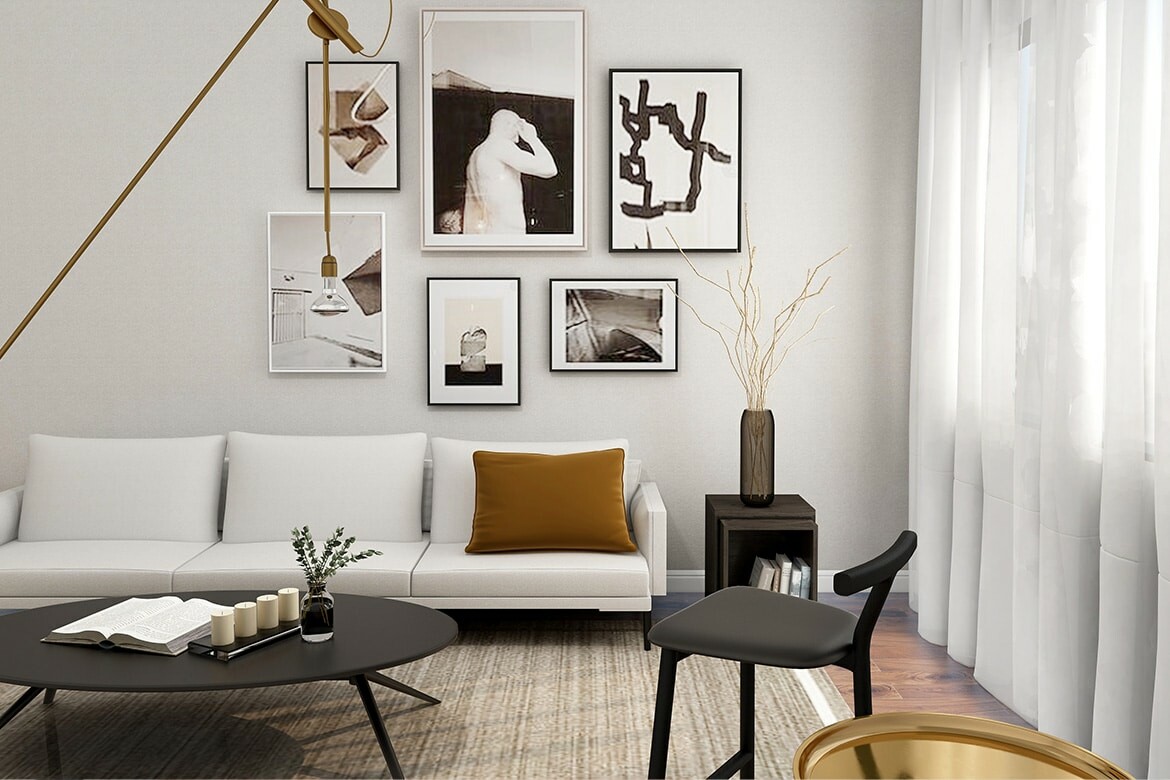 The Psychology of Interior Design

By: Megan Healy, Strategic Communications and Brand Management Intern, Nest with the Nelsons
There's more to that paint color and that patterned pillow than meets the eye. Your brain is majorly at work here, too!
We've discussed

Feng Shui

and how much it can affect your mindset at home. Now we want to talk about the psychology of colors, textures, patterns, and even smaller décor like live plants versus fake plants. When you understand how you react to certain colors, the design process becomes that much easier to navigate. Everyone is different, so this isn't a one size fits all mold. Our goal is to make you aware of how you can use certain colors to create a living space that is both functional and aesthetically pleasing. If you're going to spend your hard-earned money, you might as well reap the rewards.
These past two years have been quite chaotic, but spending all that time at home has allowed us to find out what we like and what we don't like. The biggest lesson learned would be that just because you liked it in a magazine spread or Pinterest thread, doesn't mean you'll love it in your living room. This is because we think we know what we like, but it turns out we need to do some more digging. The easiest place to start is by taking color quizzes. We've linked some free online quizzes and we encourage you to take these to help you narrow down exactly what you like.
Once you have an idea of what colors you like, one's you don't mind, and ones that downright stress you out, you can move on to patterns. Yay!
Have you ever cleaned a room well, but still feel uneasy when you're taking a good look around? Unfortunately, there may be some patterns in your home that are increasing your stress levels. Psychologically speaking, loud stripes, circles, or shapes with sharp edges spike your stress levels. The polka dot pillows that pair amazingly with the couch may be at the end of their journey. Like, we said, everyone is different, so if maximalism is your thing, please carry on. The common mistake people will make is designing a room based on what they think others will like. There's no shame in this, it's normal to want to show off a room or home you worked hard on. However, it's more important to stick to colors and patterns that allow you to be the most comfortable.
This isn't to say that you have to ditch all the patterns in your home. Instead, be more aware of the number of patterns in a certain room, as well as what colors are intertwined within that pattern. From the colors quiz, you can use this information to make the perfect combination for a more relaxing environment.
The purpose of biophilic design is to increase the number of live plants or nature within your desired space. The benefits include a decreased stress level, improved air quality, increased motivation for a healthier lifestyle, and so much more.
Now, we understand that not everyone is a plant person and not everyone has time to care for plants, especially if you are a pet owner or have kids. Apart from the fresh air aspect, fake plants do just the trick. Ikea is the perfect place to find fake plants that are both pretty to look at and easy on the bank account.
It's important to remember that not every room in the house needs a plant. From personal experience, there is such a thing as too many plants. The easiest way to include plants in your interior design process is to go little by little. Slowly add plants to your room and see how you feel each time. When you think you'd like more, you now know what plants you like and where to get them. Psychologically, the color green is associated with refreshment, serenity, and abundance. The best places to add plants include your workspace, your bathroom, as well as the kitchen. If you don't want to add any physical plants to your space, you can always add decor with plant-patterns such as throw pillows and blankets, or go for a hue of green with your walls. The addition of natural colors is the easiest way to boost the mood of any room!
This may seem obvious, but lighting has a massive effect on your day-to-day life. Natural light is the most effective for a productive life, as well as a calmer lifestyle. The scientific explanation of lighting is as follows: warmer toned lighting makes us feel more relaxed, and cooler toned lighting can lead to higher stress levels because of the strain on our eyes. This isn't to say that one is abundantly better than the other, but subtle changes can make all the difference. Warm toned lights as well as natural light are better for rooms such as the office, the bedroom, and the living room. Whereas cool toned lighting is more than OK in rooms such as the garage, the laundry room, the basement, and the exercise room. Try to associate the cool lighting with rooms that, excluding the office, demand focus, and warm tones with rooms that allow you to relax. After making these changes, you'll be able to notice a difference in the way your brain perceives each space, and subsequently prioritizes emotions. Go brain, go YOU!
P.S. Are you following us on
Instagram
and
Facebook
? You really should. Don't miss a beat, or a sweet design-inspired treat when you follow us at Nest with the Nelsons!
XOXO Always,
Megan Nelson, Co-Owner + Founder
Nest with the Nelsons
nestwiththenelsons.com
nestwiththenelsons@gmail.com


-------------------------------------------


Looking for a little extra help? Check out these must-see resources...