Jan 18, 2021 08:33 AM Central
Megan Nelson
2021 goals, get healthy, healthy alternatives, healthy and fit, healthy family, healthy home, healthy routine, home decor, home design, midwest mama, midwest mama on a mission, nest with the nelsons, new routine, new year, new you, shopping list, time-saving tips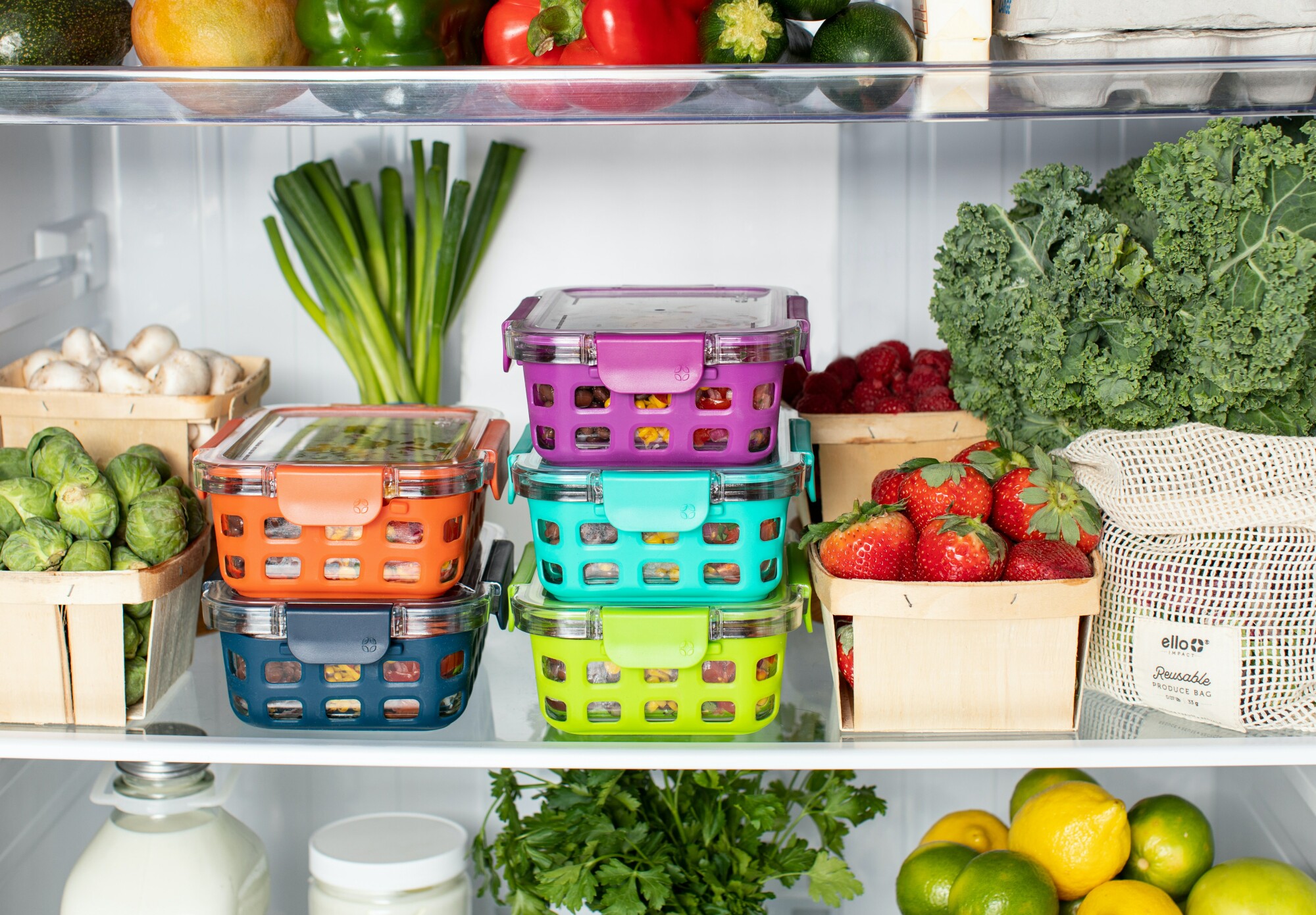 Healthy You, Healthy Home
Have you ever heard the expression: you can't be fully healthy without a healthy home?
Probably not … since I just made it up right now.
But, I firmly believe it. You can't achieve a true, healthy lifestyle without first looking inward at your daily routines, and your home.
What's lurking under your kitchen sink, which products you clean your home with, and what you put in and on your body are all important.
And I'm sure you're like me, a few years back, I had NO idea all of the junk, yuck, and nasty chemicals that were hiding in our kitchen cabinets.
Do you?
Don't fret! I certainly don't want to add yet another item to your ever-growing laundry list of things to do around the house.
But, as always, I'm here to serve. Let's fast-forward and I'll provide you my best tips of where to start looking for these pesky products in your own home.
The Scariest Areas of your Home
Check here first. These are a few of the scariest areas of your home where chemicals can so easily be disguised as something "healthy, green, safe, and non-toxic."
Under the Kitchen Sink
YIKES! This can be an overwhelming area of your home in general, but to start thinking through the harmful chemicals that may be hiding—double scary. Simplify things with this one cleaner that is natural, safe, and effective. We use this ONE, yes ONE, cleaner to provide a masterful clean for our entire home. Could you say this is the answer to all of your problems? If you're a mom—YES, I think that's fair.
Laundry Room
This can be another super toxic area of your home. And who knew, the scents of detergent and fabric softeners are so pleasant. But, that's just the issue! The chemicals are disguised under those "fresh scents." And, they are incredibly harmful to us, and our overall health. We use this instead. It's WAY cheaper, it's crazy effective, and removes stains every single time.
Bathroom
Oh the bathroom! This is a space in our homes that should be a sanctuary, a retreat, and a place where we can have the best start to our day. Instead, many of us are bogged down by the chemical burden that completely consumes our beauty products, deodorant, fragrances, and toothpaste. News flash, every single one of these products that you can pick up from the store are chocked FULL of chemicals. Explore these safe alternatives that have transformed our health and our home instead.
Feeling a bit stressed after learning what is really hiding in your home?
Now that you're refocused and recharged, let's tackle your home together! I'd love to work with you to create the healthy home of your dreams.
Hit me up, and we can schedule a time to chat about making your goals of a healthy home a reality.
Love, Joy + Oils Always,
Megan Nelson, Owner + Founder
Nov 20, 2020 05:52 AM Central
Megan Nelson
bless this mess, christmas 2020, christmas done right without breaking the bank, diy christmas, diy oily hacks, gifting made easy, healthy mama, mama on a budget, midwest mama on a mission, shopping list
Is it just me, or has 2020 been rough? I'm ready to fast-forward to the merry and bright holidays ahead, and prepare for 2021 to be one of the best years yet! But, let's be real, we still have plenty of time before we get there, so let's make it count!
So, let's dive right in! Here are a few of my TOP essential oil-inspired DIY gifts for the holidays. These recipes are designed to save you time, money, and your sanity (or what's left of it!) this year.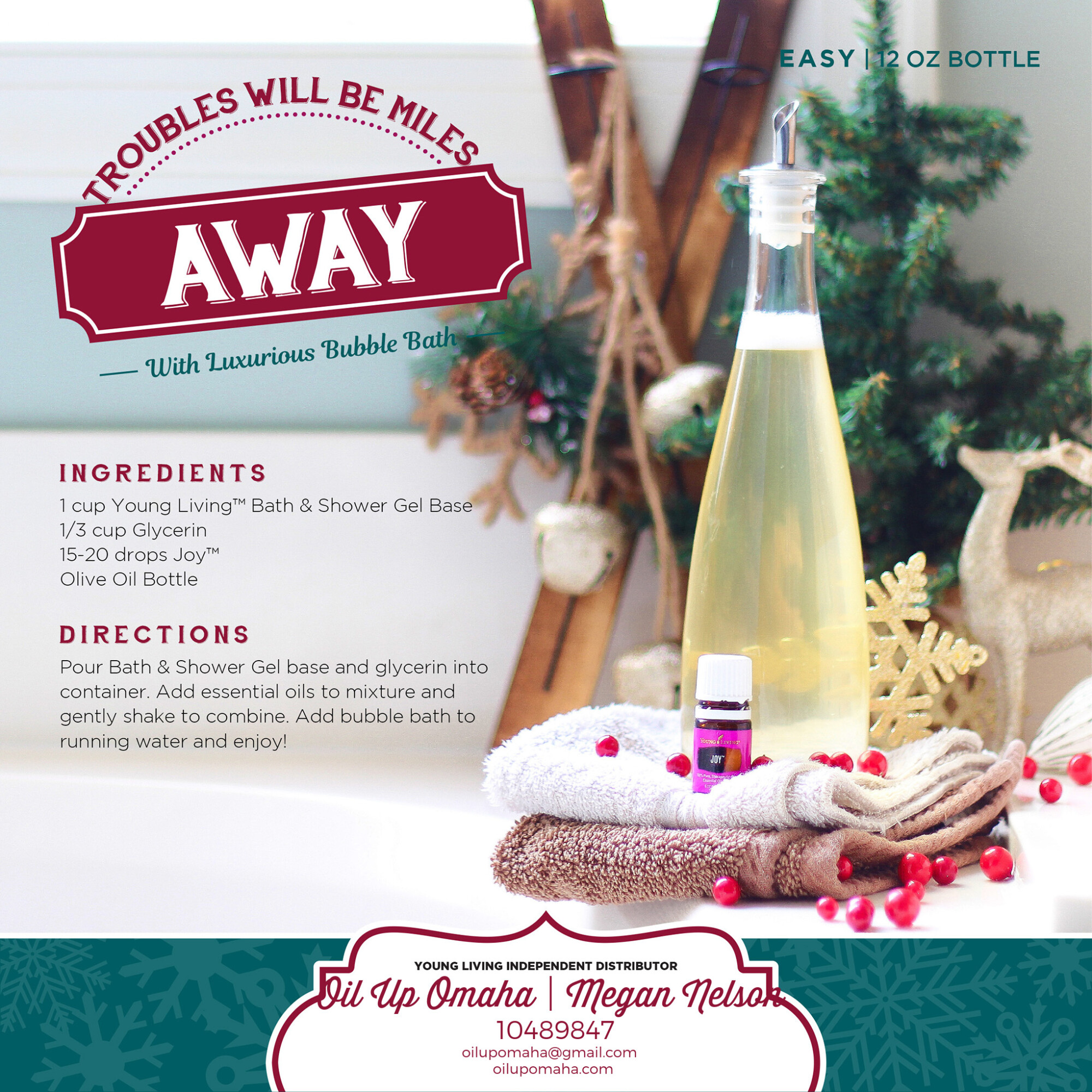 Luxurious Bubble Bath
Let's be real, who doesn't need (and sooo deserve!) a relaxing, luxurious bubble bath these days? Make your own at home with the best essential oils and supplies around.
Ingredients
1 cup Young Living Bath & Shower Gel Base
1/3 cup Glycerin
15-20 drops Joy essential oil
Olive Oil Bottle
Directions
Pour Bath & Shower Gel Base and glycerin into container. Add essential oils to mixture and gently shake to combine. Add bubble bath to running water, relax, and enjoy!
Shopping List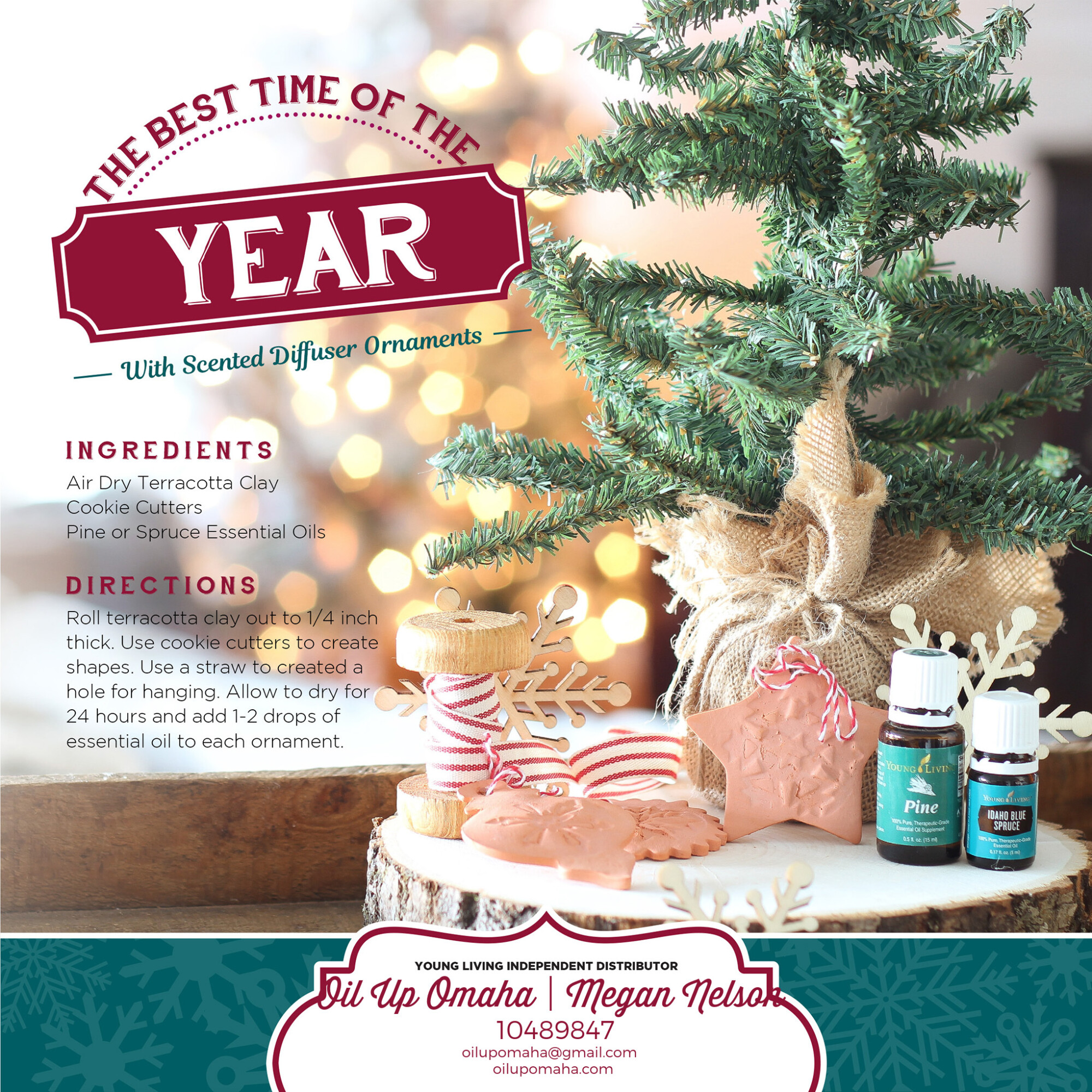 Scented Diffuser Ornaments
This one is SO easy + gives your gifts a personalized touch.
Ingredients
5 drops of Christmas Spirit essential oil
A cute ornament that will absorb the essential oils (think wood, terracotta clay, or fabric)
Directions
Simply apply 5 drops of Christmas Spirit essential oil to the ornament, and you're all set!
Shopping List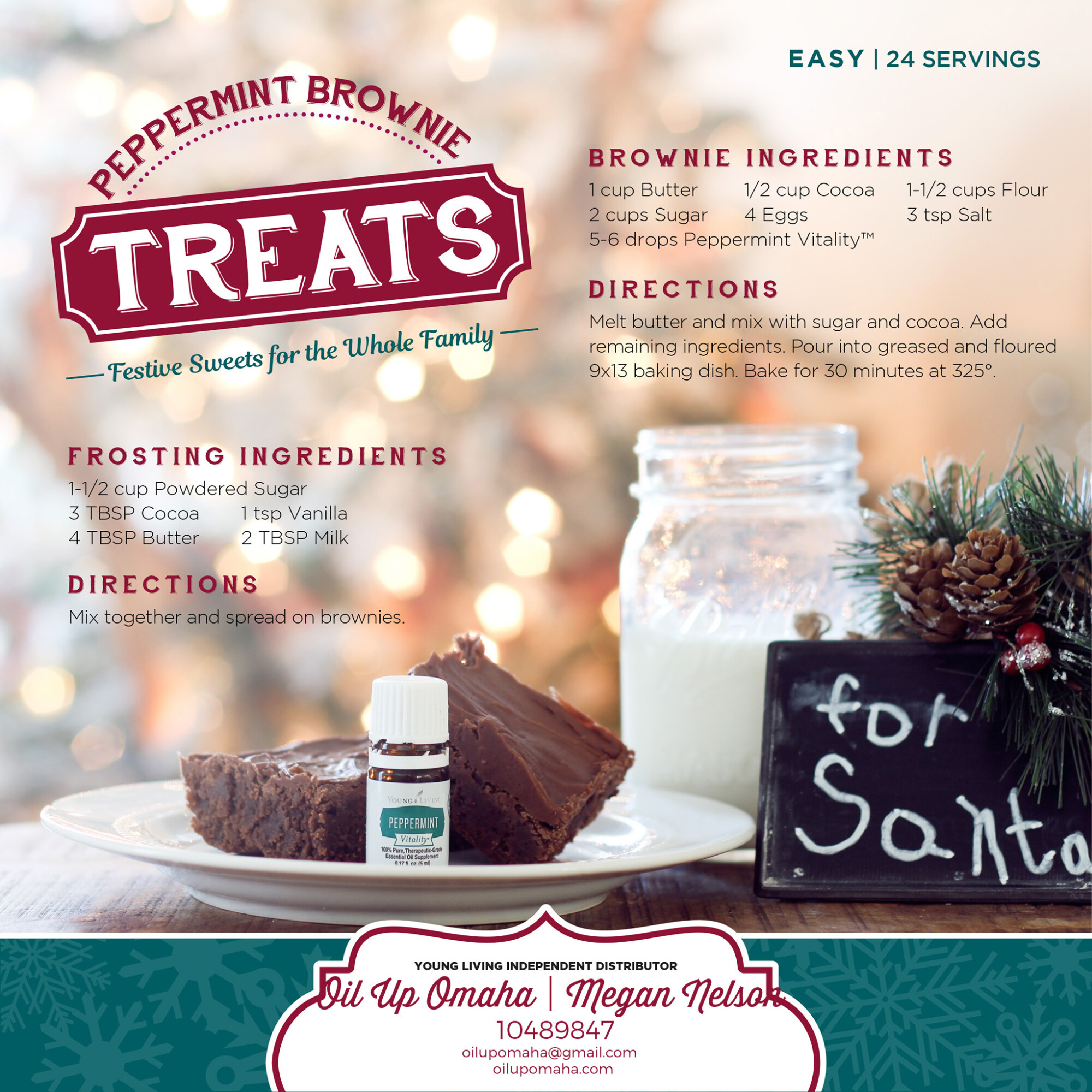 Peppermint Brownie Treats
Decadent brownies perfectly paired with one of our most popular essential oils. Enjoy!
Frosting Ingredients
1-1/2 cup Powdered Sugar
3 TBSP Cocoa
4 TBSP Butter
1 tsp Vanilla
2 TBSP Milk
Directions
Mix together and spread on brownies.
Brownie Ingredients
1 cup Butter
2 cups Sugar
5-6 drops Peppermint Vitality essential oil
½ cup Cocoa
4 Eggs
1-1/2 cups Flour
3 tsp Salt
Directions
Melt butter and mix with sugar and cocoa. Add remaining ingredients. Pour into greased and floured 9x13 baking dish. Bake for 30 minutes at 325 degrees.
Shopping List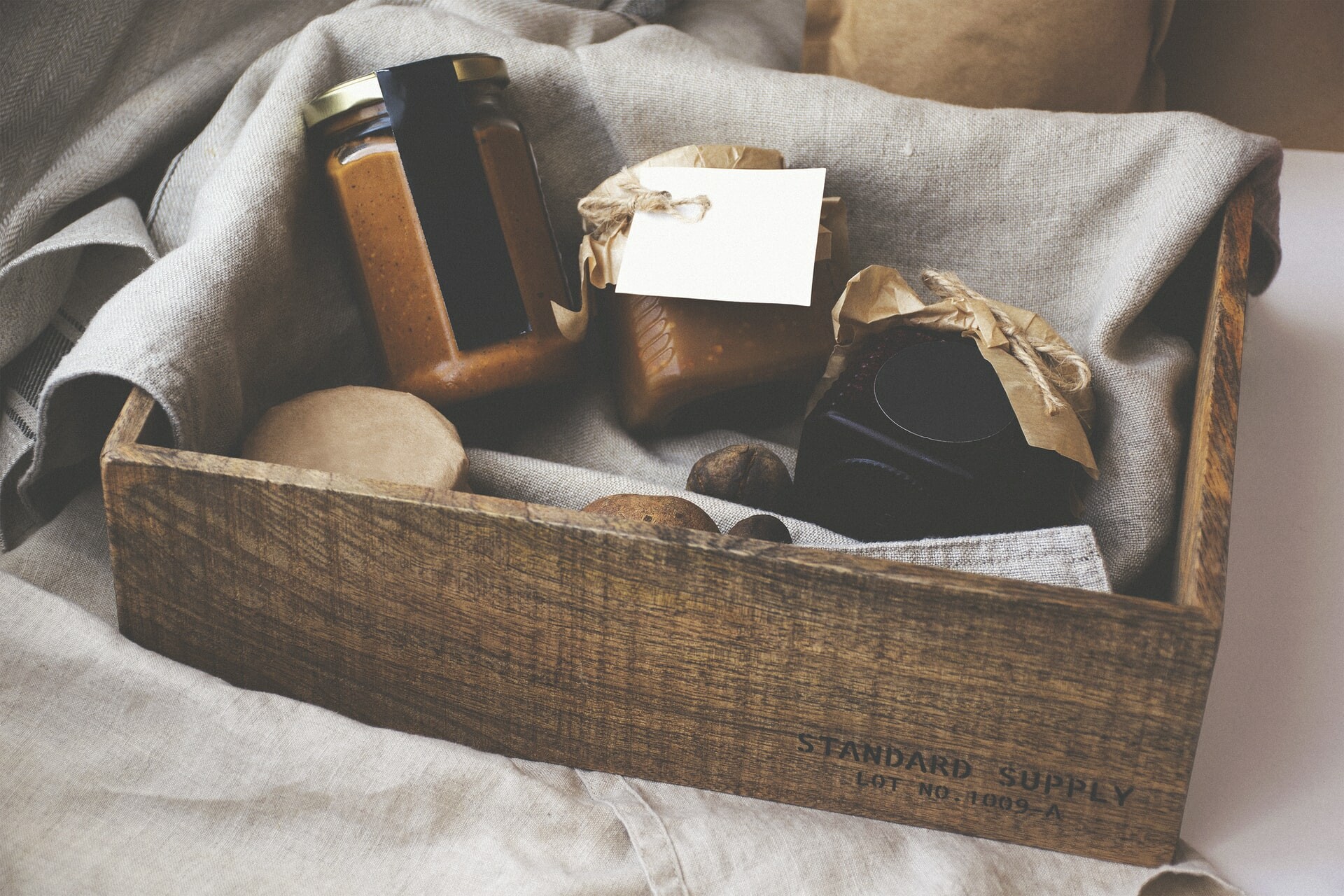 Putting this together in a holiday gift basket?
Add in a little extra goodness with some eye candy from my favorite jewelry boutique. Use my special discount code for 20% off: megnelson17
This is sure to make everyone's holidays extra merry + bright despite the CRAZY 2020 we've all had.
Wishing you health, wealth, + abundance always!
Megan Nelson, Owner + Founder
Member ID: 10489847
P.S. Ready to learn more? Pop in my Facebook Community today!
*Just so you're aware, affiliate links may be included in this article to save you time + money during your shopping experience.