May 16, 2023 06:12 AM Central
Megan Nelson
accessible design, bathroom, bathroom oasis, beautiful home, best of omaha, healthy interior design, home refresh, home spa, lincoln, lincoln nebraska, love for homes, love your home, love your home again, nest with the nelsons, Pinterest, relax, retreat, spa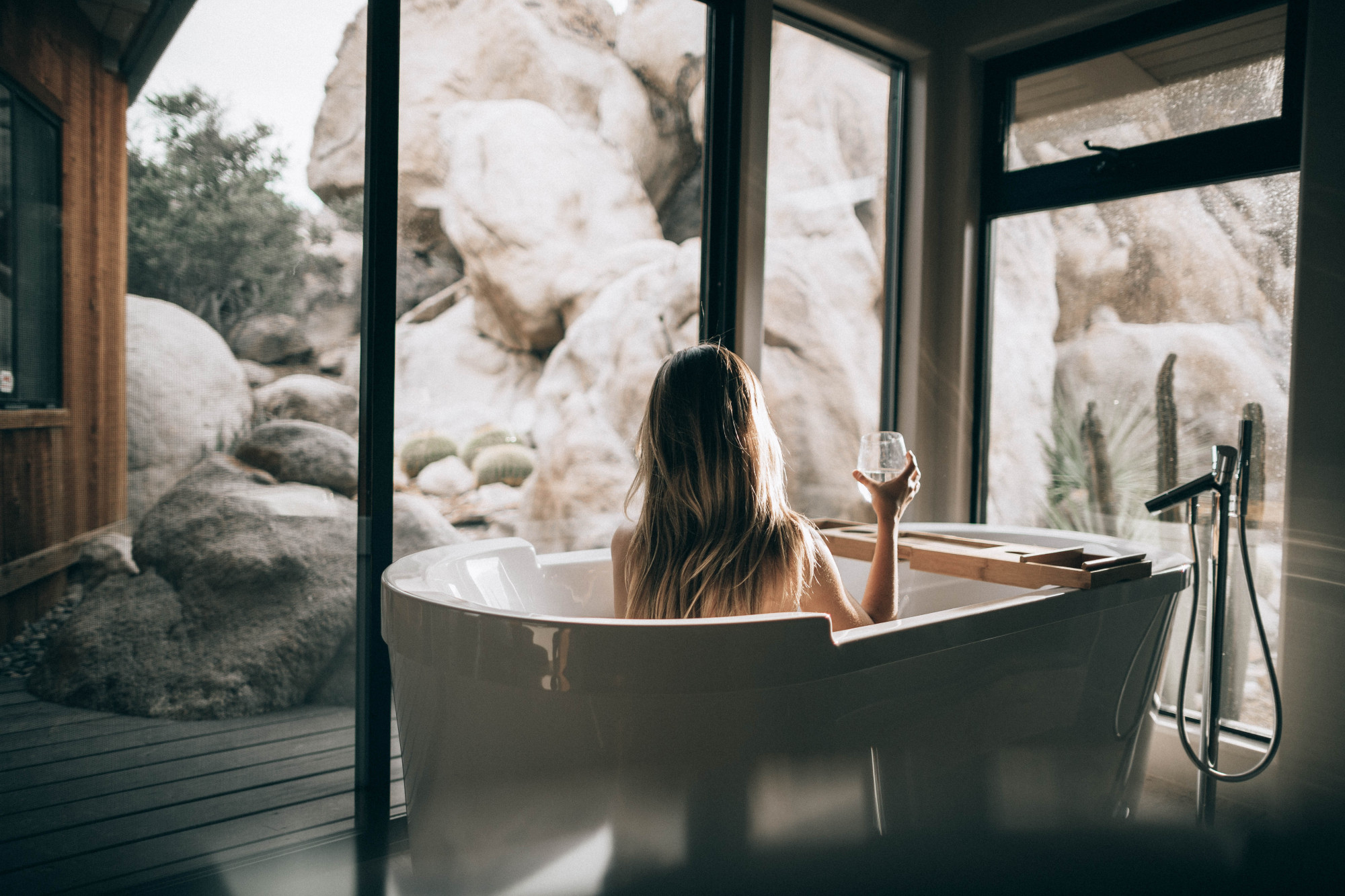 Create your Bathroom Oasis for the Ultimate Spa Experience
By: Alicia Hall, Strategic Communications Intern, Nest with the Nelsons
A big part of your daily routine takes place in the bathroom, so why not make this space as beautiful as it can be? Make your Pinterest board come to life by creating your very own bathroom oasis! A comfortable bathroom should make a huge difference to the quality of your morning and nightly routine by bringing convenience at your fingertips. It should be a comfortable and functional environment that gives you energy to accomplish goals for a long day ahead. Tricks to having the most perfect bathroom are simpler than you think! Read along to make your dream design turn to reality – and of course, how we can help make it happen.
Bathroom Lighting
Bathroom lighting can arguably be one of the most important decisions you make for your home. It can transform a bathroom that's not fully renovated and make smaller spaces appear larger than they actually are! The perfect lighting for your bathroom won't be too dim or too harsh. Bathroom lighting should be adequate enough to be as bright as natural sunlight. Comfortable lighting is important because lights that are too dim can make you feel less productive, while harsh lighting will make it difficult for you to relax.
Windows in the bathroom make for great natural sunlight and can be complemented with task and accent lighting. A bathroom without a window may require an overhead light with task and accent lights.They can be used next to or above your mirror, on the sink counter, or above your bathtub. These lights will stylize your bathroom by accentuating essentials and decor, while bringing a warm and cozy ambiance to spa day.
Color Scheme
When selecting a color scheme for your bathroom, think of colors that will make you feel relaxed. It's best to avoid high contrast pairings that can be overstimulating. A peaceful color palette like lighter shades of green and blue work wonders because they provide calming effects to the nervous system. Warmer neutrals are another great option that can be perfect for days that call for relaxation! Neutrals create a sense of timelessness and elegance. If you're looking for a more dramatic look for your bathroom, deeper hues can provide the richness you desire. Deep hues can create a sense of comfort and be brightened with accessories and other neutrals.
Counter Space
Prioritizing counter space is important to keeping your bathroom essentials easily accessible! Minimize clutter by only keeping items you use on a daily basis. This will promote a calming space for you to relax in. Your bathroom should work for you so that spa day can make you feel as light as a feather!
As such, we've created a list of 5 must-haves to establish your very own bathroom oasis. And, when you need a little extra help. Simply schedule your free consultation with us today. We would love to chat through your project and help you brainstorm your new and refreshed space today.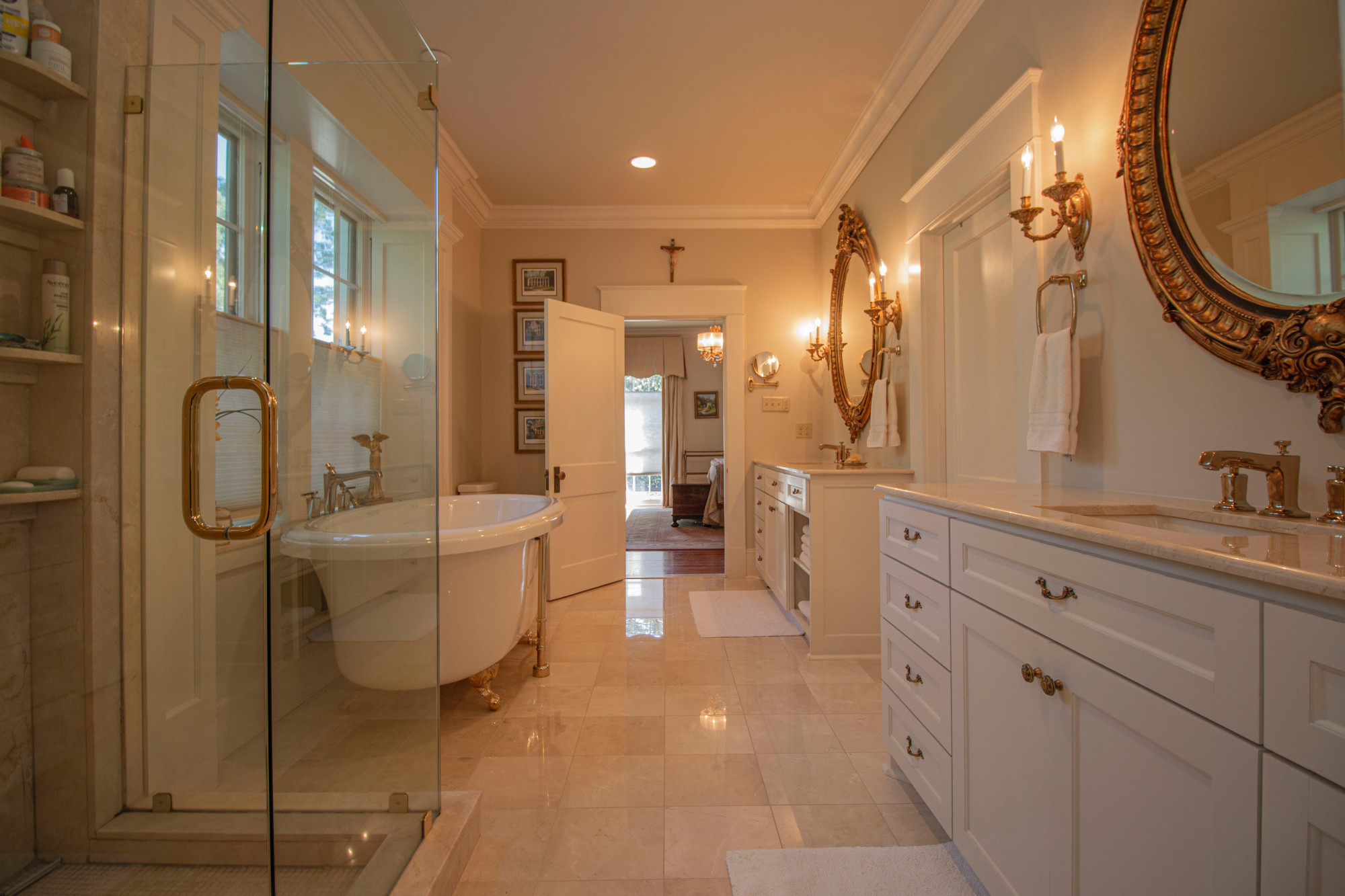 5 Essentials for your Bathroom Oasis
1. Easy-care bathroom floors
Easy-care bathroom floors will provide the convenience you need to get through a long day! Bathroom floors should withstand moisture and humidity, be easy to clean, and feel comfortable. Ceramic and porcelain tiling are perfect for the bathroom because they are affordable, resilient, and waterproof! New Luxury Vinyl Tile (LVT) and Luxury Vinyl Plank (LVP) are great options in bathrooms as well, offering a large variety of options, at a budget friendly cost.
2. Fluffy Towels and Bath Mat
Having fluffy towels and a bath mat is a simple way to enhance comfort! Keep
fluffy towels
tucked neatly away on shelving or rolled in a woven basket. They not only look gorgeous, but feel luxurious! A plush bath mat is also a must-have essential that can upgrade shower and bath time to a dreamy escape. Trust me, I never understood how lovely a bath mat can feel until I set foot on one after a long day myself!
3. Candles
Candles can bring you the peace you need to unwind! They make the most perfect decorative item by the bath or on top of a sink countertop. Not only do they provide a relaxing ambiance, but have relaxing aromatherapy benefits. A candle's warmth will make lighting soft, cozy, zen, and beautiful. Various candle scents will make your space feel customized and personal! Float in an atmosphere of ease by investing in your favorite candles scents.
4. Seating & Laundry Basket
A cozy chair is a great functional asset to your bathroom design. If you've been standing too long prepping for a big day ahead or a night out, a chair can provide extra comfort. It can be placed at a vanity area or small nook in your space to spruce up your home design. It may provide a level of comfort that you may not even realize you were missing.
Another convenient item great for your bathroom is a laundry basket. A laundry basket will keep your space tidy and functional, keeping dirty clothes and towels out of the way in no time!
5. Comfort is Key
The biggest element to striking a balanced, functional design is keeping your comfort at the forefront. That, paired with this must-have list is just what you need to achieve your ultimate spa experience at home. I hope you enjoyed these design tips for your next project and may you feel as comfortable as you can be in your new and improved bathroom oasis!
Our Services Start as Low as $129 .... YES!
Let us help achieve your very own bathroom spa oasis today for as low as $129! Simply reply to this email, or tell us more about your project here to schedule your free 15-minute consultation today.
Now, get that bubble bath brewing, turn on some tunes, and enjoy your very own spa experience at home!
Megan Nelson, Co-Owner + Founder
Nest with the Nelsons
nestwiththenelsons.com
nestwiththenelsons@gmail.com
---
Love your home again with our must-have resources ...
4. Are you a business owner looking to reach new customers?
Check out our Brand Partners page
to learn about our brand partner opportunity and secure an exclusive spot with us.