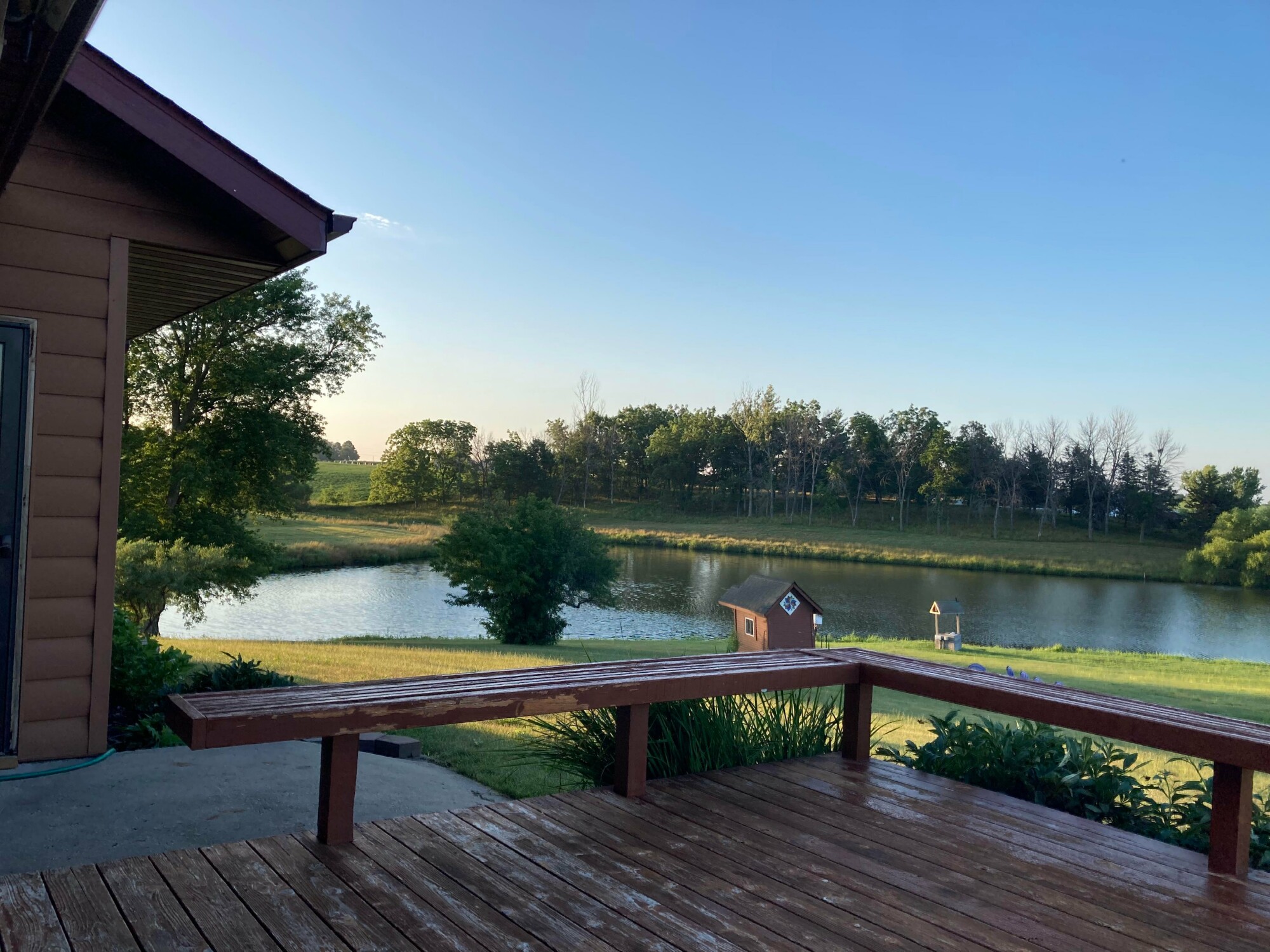 Family Vacation, 1st Heavenly Birthday, + Become a Brand Partner

By: Megan Nelson, Co-Owner + Founder of Nest with the Nelsons
We have had a filled week since we chatted last!We kicked the week off with a family vacation to a nearby Iowa farm. We celebrated my mom's 1st heavenly birthday, and now I'm getting back into the swing of things with a little work as we prepare for another busy week for our family. Let's take a closer look to our slightly wild, but totally fun last week.
Family Vacation on the Farm
We are just getting back from taking a little family getaway to a nearby AirBNB for vacation with our three kiddos – including our now four month old. It was a super fun couple of days of exploring the Iowa hobby farm, enjoying family dinners at new local spots, and even making some "cheater" s'mores to round out our trip. To top things off, this awesome little farm was complete with its own mallet ball course right out our front door. To say we had a good time is an understatement. It was just the perfect getaway for our young family. Nothing like a summer vacation for the memory books!
Cheers to a Heavenly Birthday
After having a great time on the farm, we headed back to Omaha to celebrate my mom's 1st heavenly birthday. If you're new here, you may not have heard, my sweet mama passed away on Easter Sunday this year, April 17. She passed away after a very hard year of cancer catching up with her, and too many days in the hospital to count. She is no doubt in a better place now.
On Sunday, we had a fun day celebrating mom's birthday. Even though she couldn't be with us here in person, I am confident that she would have enjoyed the day. We kicked things off with church and then went to our favorite breakfast spot with dad. Then this afternoon we made a yummy little snack that I'm just sure mom was enjoying with us from above. Cheers to 70 years + your first heavenly birthday, mom!
Now that we're getting back into the swing of our new summer routine, I'm back at the grindstone, totally refreshed and my mind racing with new ideas for Nest with the Nelsons. Speaking of new ideas … if you ever have a new concept, home idea, or feedback for us, we're so open to hearing your suggestions. Have one now? Send it my way – just hit reply now!
OK, now back to business! We're launching our exclusive brand partner opportunity as of August 1 and we would LOVE to have you join us! We're looking for great contractors, painters, accent wall specialists, home decor enthusiasts, realtors, plumbers, and the like, to refer our wonderful clients to when working with us.
Want in on the action to be an exclusive brand partner on our website and score exclusive spots our blog content? We would LOVE to hear from you! Reply to this
email
with your interest. We'll fill you in on all the details, and get you locked in as an exclusive partner for your nook of the home space.
Improved Facebook Group: Join Now!
You won't want to miss this – members of this group are the FIRST to hear of exclusive offerings, deals, and home hacks. Join today!
Cheers to a great week ahead. And, to really take your summer to the next level, connect with us today. Tell us more about your next home project. We can't wait to help!
P.S. Stay in the loop on all of our design offerings -- including a potential new service. Follow along on
Instagram
and
Facebook for full details!
XOXO Always,
Megan Nelson, Co-Owner + Founder
Nest with the Nelsons
nestwiththenelsons.com
nestwiththenelsons@gmail.com


-------------------------------------------


Looking for a little extra help? Check out these must-see resources...