Oct 18, 2021 09:38 AM Central
Megan Nelson
beautiful home decor, curtains, design secrets, design tips, inside scoop, nest with the nelsons, nesting with the nelsons, virtual interior design, virtual sessions, virtual staging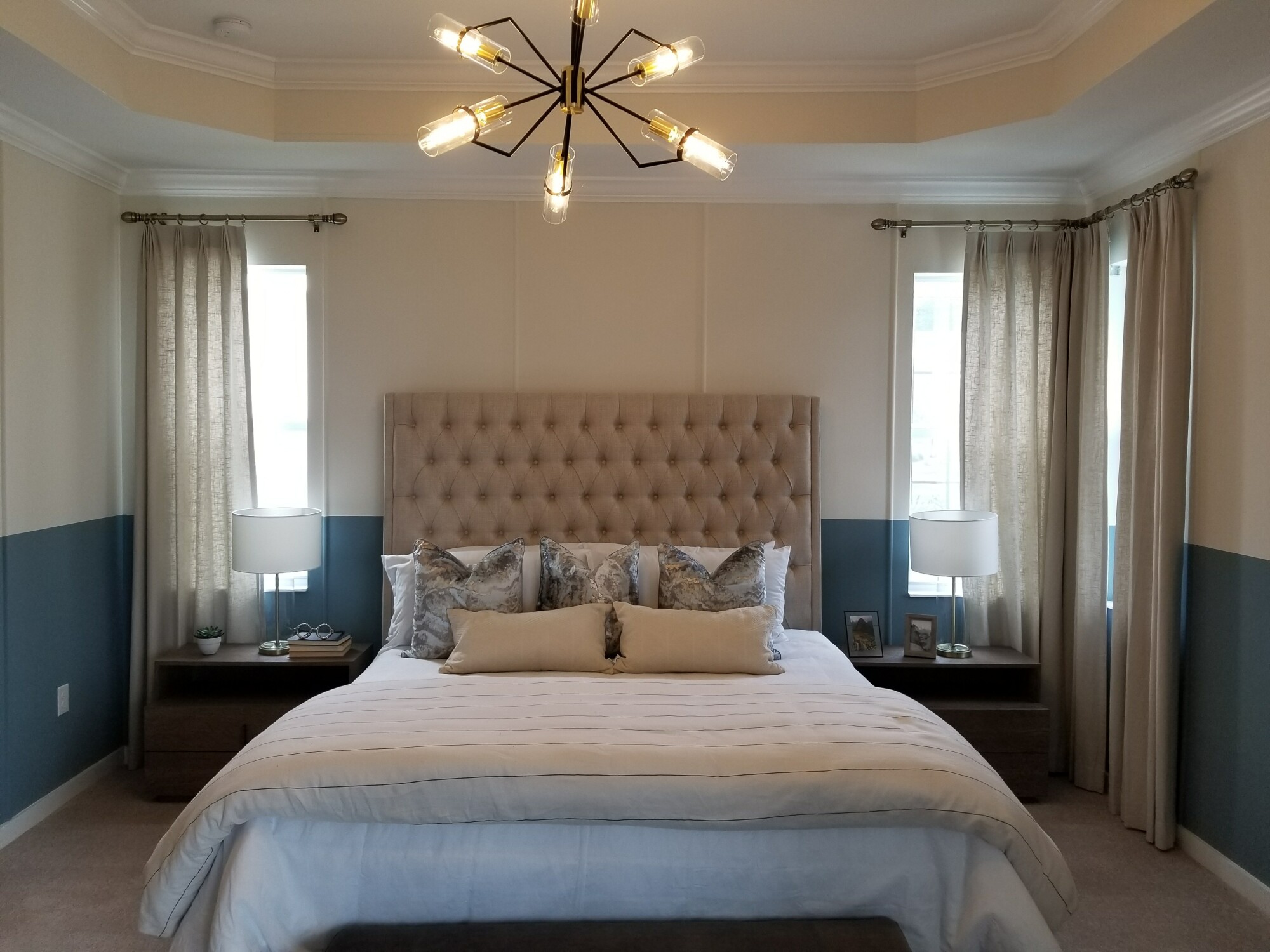 The Secret to Selecting the Perfect Curtains
Let's be honest--shopping for curtains can be a PAIN with a capital "P!" You've got to worry about the color, pattern, style, and light or darkening power for your space. Not to mention, you also need to choose the right size. Choosing just the right set can really be a challenge.
It's a bit of an art to find just the right combo of style, function, and size for your space, really. And, each room of your home comes with its own personalized needs.
So, grab a beverage, cozy up, and let's get to work to find the perfect curtains for your home!
Knowing the length and width of the curtains needed for your space is half the battle. But, most importantly the length. So here's a tip that your mama may not have known. The idea is to measure nearly to the top of your ceiling down to the floor. Get that measurement. It will usually be around 84 inches, 95 inches, or 108 inches. Whatever number it is closest to, go on the hunt for curtains of that length. By narrowing down your online search to that length of curtain only will ease your potential stress headache immensely. There are literally hundreds of thousands of curtains to choose from -- this is my number one pro tip to save you tons of time!!
Choose Light, Dark, or Blackout
Now that you've got your length down--go you!--next up is to choose the light, dark, or blackout power of your curtains. The use and function of space where you're needing curtains will likely determine how sheer or how dark you need to go.
In our home, we're going black out curtains all day in the kids' rooms, and our bedroom. We're blessed with tons of natural light in our home, but mama (and kiddos!) have got to sleep. So we've learned that we maximize our sleeping when we narrow our search to black out curtains only in these spaces.
Now, in our living and dining rooms, we've selected more sheer curtains because no one is sleeping in these rooms, and we usually have these pulled open throughout the day. So really, the curtains in our dining and living rooms are just an extra added cuteness perk to bring our space together, while bringing in some extra textural touches.
OK, now comes the real fun! Now it's time to select your curtain style. Are you going for a beachy hamptons look, or are you more classic traditional? Maybe you're looking for some major luxe or a totally contemporary vibe? Whatever style it is you're trying to strike, be sure to choose something you really do enjoy. Curtains can be a spendy date, so select something that you're naturally drawn to--not something that seems to be trendy this week.
In our home, we really went for a mix between traditional yet contemporary, updated vibe with a touch of farmhouse chic. This is really our go-to style everyday, so it was a natural fit when selecting the finishing touches of our curtains, as well.
Quick Tips for Hanging Curtains
Now that you're armed and dangerous with curtains you adore, it's time to get hanging! I mentioned this very briefly earlier if you were reading intently. But, you'll want to hang your curtain rod nearly to the ceiling.
If you're going for a more dramatic, or even romantic look, let those curtains really drape on the floor. If this is the look you're going for, you will want to order extra long curtains from the get go. Note: The function of this look is tricky with small children, as they are drawn to billowing curtains gathered on the floor. :)
Pro tip: Thread your curtains on the rod, grab a friend, and a step stool, and hold the curtains up above your window just high enough so the curtains just graze the floor. Once you've found the right amount of grazing for you, hang those puppies--quick!
That's a wrap! I hope you've enjoyed this week's inside scoop on selecting those perfect curtains for any space in your home. Stay tuned for more interior design tips to make your life more stress-free, easy, and totally beautiful.
Until next time … have the best week ever!
XOXO Always,
Megan Nelson, Co-Owner + Founder
Nest with the Nelsons
nestwiththenelsons.com
nestwiththenelsons@gmail.com
P.S. Did we mention that our virtual sessions start as low as $99?

There's really nothing to lose. Book your personalized, easy, and super fun session today before our calendars fill up. The best time to book to prep your home for the holidays is now through November 15.
3 quick + easy steps to make your healthy dream home a reality today:
Walk us through your vision and goals for your space during our session

Await your healthy dream home plan
Ready to work with us?
Tell us more about your project. Then, we'll set up a free 15-minute consultation to determine which project fits your budget best.
Still not sure about all this virtual interior design stuff? Set up a free 15-minute consultation. No obligation, no sleazy sales pitch. Just learn about our offerings, and if we're a good fit for your home improvement project. Email us today at
nestwiththenelsons.com
.
-------------------------------------------

Looking for a little extra help? Check out these must-see resources...