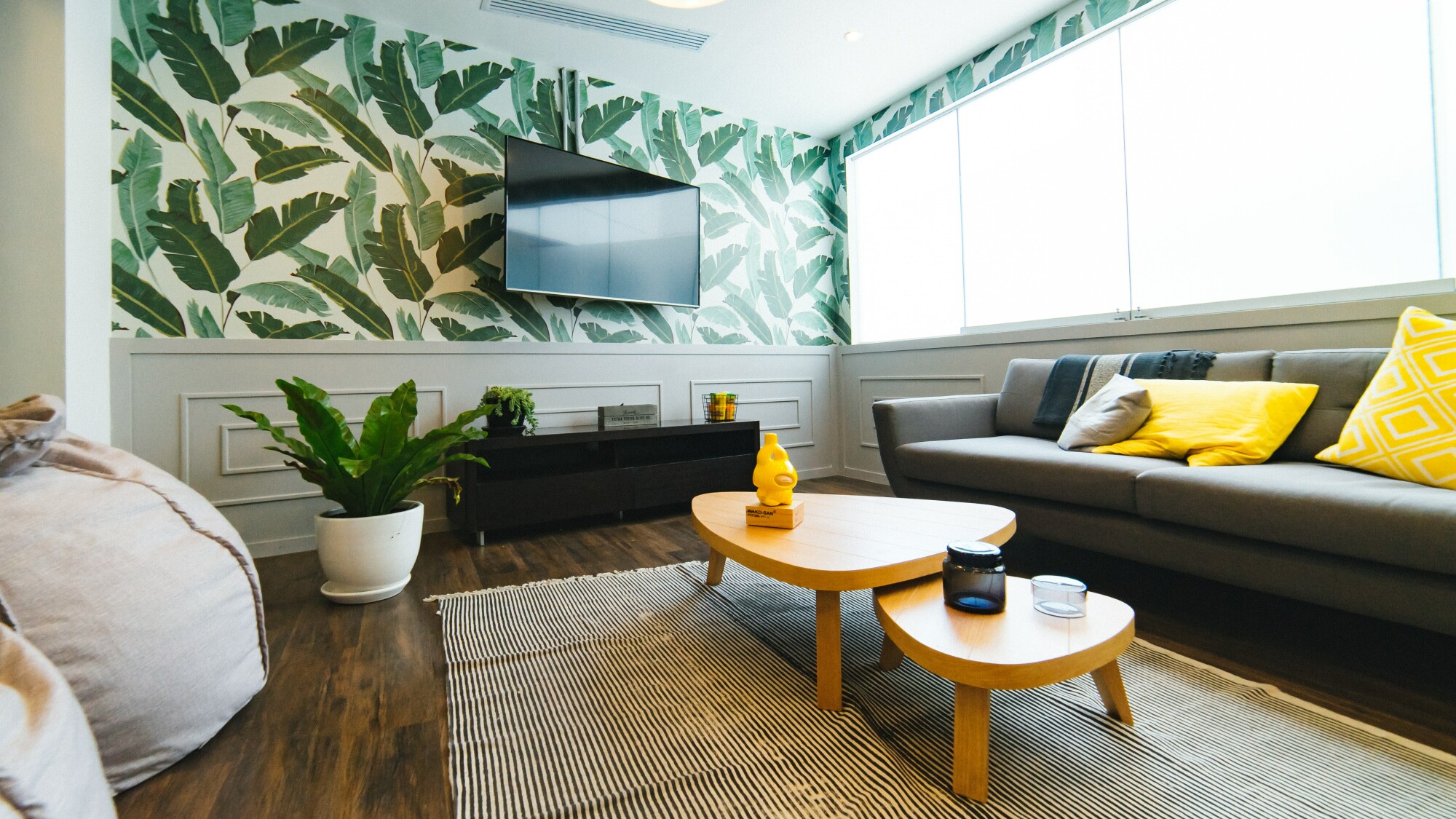 Home Trends to Expect in the New Year

By: Megan Healy, Strategic Communications and Brand Management Intern, Nest with the Nelsons
3, 2, 1 … Happy (almost) New Year! Go ahead and give yourself a pat on the back for making it through yet another chaotic year. Sure, we still have a couple more days, but in the grand scheme of things, we made it. There's nothing quite like finishing one year and enjoying the wave of motivation to start planning for the next. Lists upon lists of what you want to accomplish and more specifically, what room you want to finally tackle.
Wallpaper is Sticking Around
As much as we think this trend is going to die out, it always seems to stick around. So, it's time to embrace it! There are thousands of wallpaper prints to choose from, so how does one even go about deciding? First, it's always good to do your research. Find out what wallpapers worked for 2021, and what prints are totally in for 2022. Botanical prints were all the rage in 2021, and that trend seems to be carrying over for the new year. Specifically, any shade of green and deep blue were the most popular. Big flowers and animals are making their way to the top, as well as bright colors that bring attention to the room. For 2022, birds of all kinds and a mix of that deep blue is in the forecast. While maximalism seems to be all the rage, remember to choose a print that works for you and the room in question. Don't do flamingos just because they're trending!
All the Greenery you Need
Many if not all the trends for 2022 are trends we've all seen before. This one in particular has to be my favorite. A fantastic way of making a room come to life is by quite literally adding life into the picture. Of course, you don't actually have to add real plants, because holy maintenance. Fake plants look just as good and are much less work to keep around. There are pros and cons to both. Real plants give you bragging rights for having the time to keep them alive, and fake plants bring the room together without the extra work.
So, what plants should we be looking at? If you're looking for one that grows out just enough, look no further than Phyllanthus Mirabilis (say that ten times fast). This gorgeous plant requires little water, if you're buying a real one – phew! Hoya's are also quite popular, and they're current trend is the addition of a hanging pot. They're growth is just a tad bit unpredictable, so it truly depends on your care. Again, just simply typing in Hoya fake replica on Google will do the trick for those taking that route. My last favorite is a Satin Vine. This plant can grow to be quite large, with a silver touch to its leaves. This adds a beautiful touch to any room that you think needs one more piece of art to it–it's just that pretty.
Here's a trend we can all appreciate. I don't know about you, but the sun sets for me around 4:15 PM, leaving me a lot of time in potential darkness if not taken care of. We can often think of lighting as an afterthought, but the trends for 2022 would beg to differ. Statement lighting will be your new best friend, but the greatest part is that this is a fully functional trend. You use lighting for almost everything, why not get creative with it! This is also another great way to add a statement piece to a room, along with the plants we mentioned up above.
Lighting is one of those things that allows you to step outside of your comfort zone just enough, without totally breaking the bank, too. Keep your pillows, rugs, and curtains in the same wavelength, but allow the lampshades and ceiling fixtures to have some fun on their own. Mid-century lighting fixtures are rising in popularity, along with color lamp shades that immediately grab attention. Along with this, vintage lighting pieces allow your room décor to hold a bit of uniqueness to them that makes your house all the more special. With the functional side of things, make sure you're looking at lighting that both works for the room and works for you. The last thing you want to do is purchase a lighting fixture that is gorgeous but barely provides light. We can't have that with the sun setting before dinner!
We Want to Hear from YOU!
Which of these design trends are you most excited about exploring in 2022? Reply to this post – we would love to hear from you, and your home plans in the New Year!
Wishing you all the best as we embark on a new adventure in the New Year. We'll leave you with this last thought as you prepare for the year ahead:
"If you're not making someone nervous, you're not doing it right." ~ Unknown

XOXO Always,
Megan Nelson, Co-Owner + Founder
Nest with the Nelsons
nestwiththenelsons.com
nestwiththenelsons@gmail.com


-------------------------------------------


Looking for a little extra help? Check out these must-see resources...