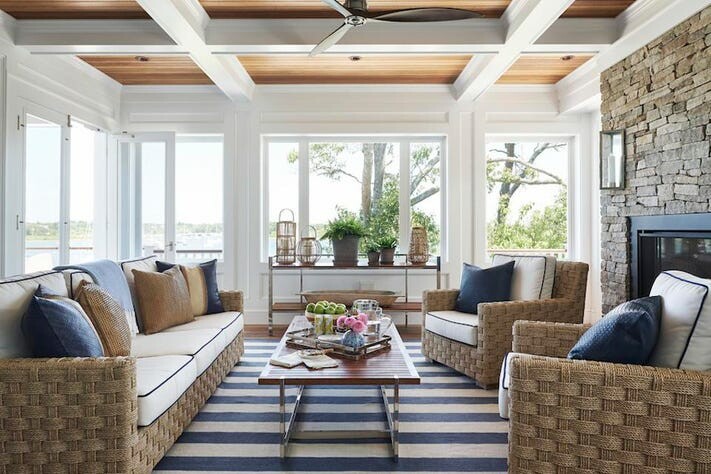 By: Megan Healy, Strategic Communications and Brand Management Intern, Nest with the Nelsons
We've made it! summer is just around the corner, and we couldn't be happier. There's no better feeling than the smell of warm air, Spring Cleaning in full swing, and everyone just seems to be in a better mood. In this blog, we want to highlight a few decorating ideas, as well as inspire you for the season ahead.
We're Going Neutral this Summer
Summer is a great time to slow things down, and neutral colors are a great place to start. "Muted natural colors" are all the rage for this summer season. In our other blog, we talked about how the colors of your walls have a direct affect on how you feel in that room. Incorporating softer, pastel colors not only provides a comforting aura to your room, but they are also highly adaptive to any furniture or décor you might already have.
Colors like pastel or muted green, cream, or pastel yellow, baby blue, and of course, a pastel pink never hurt anyone. We've also seen a muted brown spring into popularity within the last year, which is a perfect year-round color that works for any season. If you're not in the mood to paint your walls, consider incorporating these colors into smaller things such as throw blankets or pillows. These could be your tester items, and if you really enjoy the colors, take to the walls and paint away!
Bring the beach to your home! The seashore, coastal decoration theme will never go out of style, and is an easy way to make your home feel more like summer. This is also great if you don't live near a beach and are in desperate need of some seashore vibes. The pastel yellow, cream, and baby blue are the easiest colors to use to transform any room to a coastal theme. The ultimate way to transform the room, though, would be to stick to a cream or very light wall color, and add in the brighter blues and pinks in the decoration. This includes blue pillows, lamp shades, wall art and curtains. Think long term with these decorations and try to imagine what you'd like to see in your house six months from now. This way, you won't have to keep changing the room for the colder seasons.
One of the best ways to design a room for Summer is by matching flowers and plants to the furniture and walls. The soft white-cream of Baby's Breath flowers can match almost any room and are more than amazing to look at. Seasonal flowers are also a great way to add décor to a room without too much commitment. If you just want to add an extra touch to the room without having to think of the long-term design, flowers are the way to go!
Eucalyptus makes for a fantastic bathroom plant, as it not only brightens up the room, but also gives off a refreshing scent. An Angelonia plant is always a summer go-to as well, as it is gorgeous to admire. We've mentioned this before, but if you won't be inside too much this summer and are worried about taking care of the plants, there are plenty of stores that carry fake plants that do just the trick for your home. If you're balling on a budget, check out Michaels, Home Goods, World Market, and even Amazon!
There's no better time than the summer to invest in some outdoor furniture. From seating, to tables, to umbrellas and more, staying outdoors for as long as possible is always the goal. This can be extra useful for those who continue to work from home, and don't want to be stuck inside in front of a laptop all day long. Some of our favorite stores to look for quality outdoor furniture include Wayfair, Joss & Main, and At Home.
Remember that outdoor furniture is much more than looks. You want durable pieces that not only look nice, but are fully functional, easy to put away, weatherproof, and durable for the family. Once you know exactly what you want (and how much you'd like to spend!), the process can be much more enjoyable. For those of you who work from home and want to spend more time outside, look for furniture that is adaptive to your style of work, but also includes necessities such as umbrellas and lighting options. After a long winter and too much time inside, it's time to truly invest in your outdoor space and fully embrace the beauty of nature around us.
P.S. Are you following along on
Instagram
and
Facebook
? You really should. Don't miss a beat, or a sweet design-inspired treat when you follow us at Nest with the Nelsons!
XOXO Always,
Megan Nelson, Co-Owner + Founder
Nest with the Nelsons
nestwiththenelsons.com
nestwiththenelsons@gmail.com


-------------------------------------------


Looking for a little extra help? Check out these must-see resources...