Jan 10, 2022 07:11 AM Central
Megan Nelson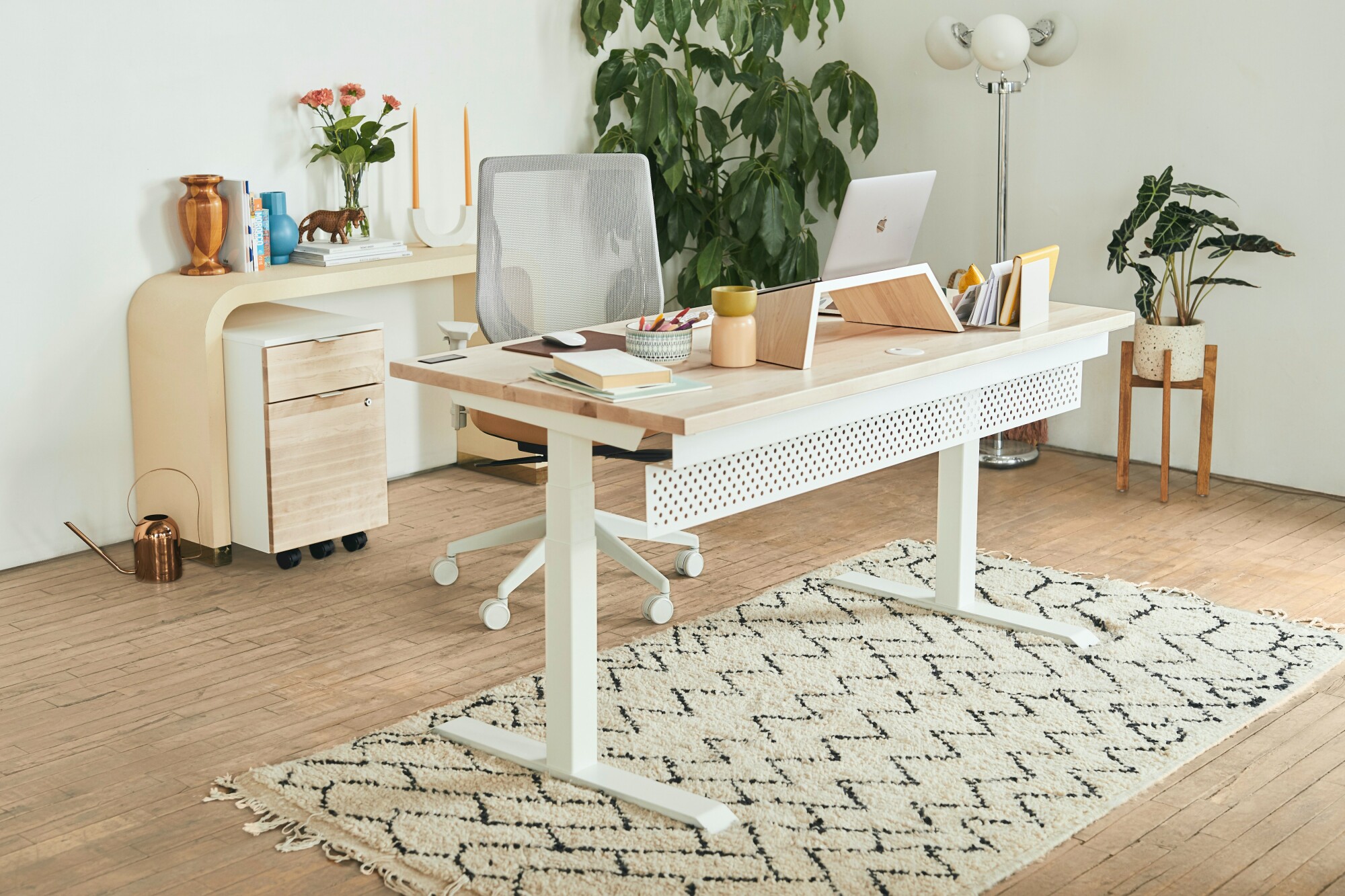 How to Create a Home Office You Love

By: Megan Healy, Strategic Communications and Brand Management Intern, Nest with the Nelsons
Working from home is the new normal, so it's about time we start investing in that office space. Regardless of whether we eventually return to in person work, it's always nice to have a space in your home where you can zero in on a project – work related or not. Where you work impacts how you work, so it's important to create a space that works for you (no pun intended).
Again, how you create a space is up to you and your needs, so we're going to drop a couple of tips for you to take with you on your home office journey. And, if you do end up going back to the office, you can always take these tips with you to make sure your office space is just as great as the one at home.
Like all rooms, storage is key in making it a space you can actually enjoy. A home office needs a little more love in the storage department, especially if you're someone who needs to keep track of documents and files galore. First, you want to scan the room and figure out a space or two designated for said storage. Storage is meant to clean up a room, so if you're organizing items in boxes but putting them in a random corner by themselves, it's not going to work.
In another blog, we mentioned the importance of shelves and why they're your new best friend.
A home office pairs beautifully with shelving because you can accessorize them with plants and pictures, while also putting the boxes with work documents, too.
When you're better organized, work becomes less of a drag and more of something that is attainable that leaves you feeling accomplished. Eliminating the eye sore of the room is another fantastic step forward in creating a workspace that allows you to focus. It also makes for an easy clean up when things get a little hectic. Storage allows you to keep your work life confined within your home office so you can still turn off the computer at the end of the day and separate yourself for some family time – a must-have when working exclusively from home like so many of us are these days.
Customization – Make it Yours!
One of the many perks of working from home includes the ability to completely make the space your own. No rules or guidelines, just whatever is the most comfortable for you! This is where things get fun. While you're picking out storage, think of what you want the room to both look like and feel like. If you see something on Pinterest or in a magazine, use it as an idea but make sure the end product is something you love and fits your style. And, while you're ogling over Pinterest,
be sure to follow Nest with the Nelsons for more home inspiration
. After all, you are the one that will be working in this space, it might as well be designed to your liking.
Another perk to having complete control of your office space is the ability to change it up whenever you feel like it. I find that whenever I'm in a work rut, changing up my environment, even just moving a plant, makes all the difference. It's refreshing, and more than easy to do. This is just another small thing to keep in mind when you're in the process of creating your ideal space. This can be buying furniture that is multifunctional or purchasing décor that works in the room, regardless of where you put it.
Cute with a Touch of Functional
Work from home also means working with way too many cords – most of which we don't even know the use for. Nothing is more of an eye sore than a bundle of wires sticking out in the corner of your room. How are we supposed to do any work when we feel like we live in a big tech store? One of the greatest purchases I have made in the past few years was a
cable concealer
. Amazon and Target, to name a few, sell some for very cheap, and with cute designs! You can use an adhesive to attach it to the ground, the wall, or under your desk. A little goes a long way with these concealers. You can bundle up your computer and printer cords, any lighting cord that sticks out, or the random obscure cord that you truly do not know where it came from.
Remember that you're creating a space that works for you. Far too many times I try to recreate a room I seem to like on Pinterest but end up realizing it doesn't fit my style or comfort level. It is better to work with colors and designs that allow you to feel comfortable and authentic. This is where you will be able to get work done and feel good at the same time. Nothing says professional quite like feeling good in your own shoes.

XOXO Always,
Megan Nelson, Co-Owner + Founder
Nest with the Nelsons
nestwiththenelsons.com
nestwiththenelsons@gmail.com


-------------------------------------------


Looking for a little extra help? Check out these must-see resources...