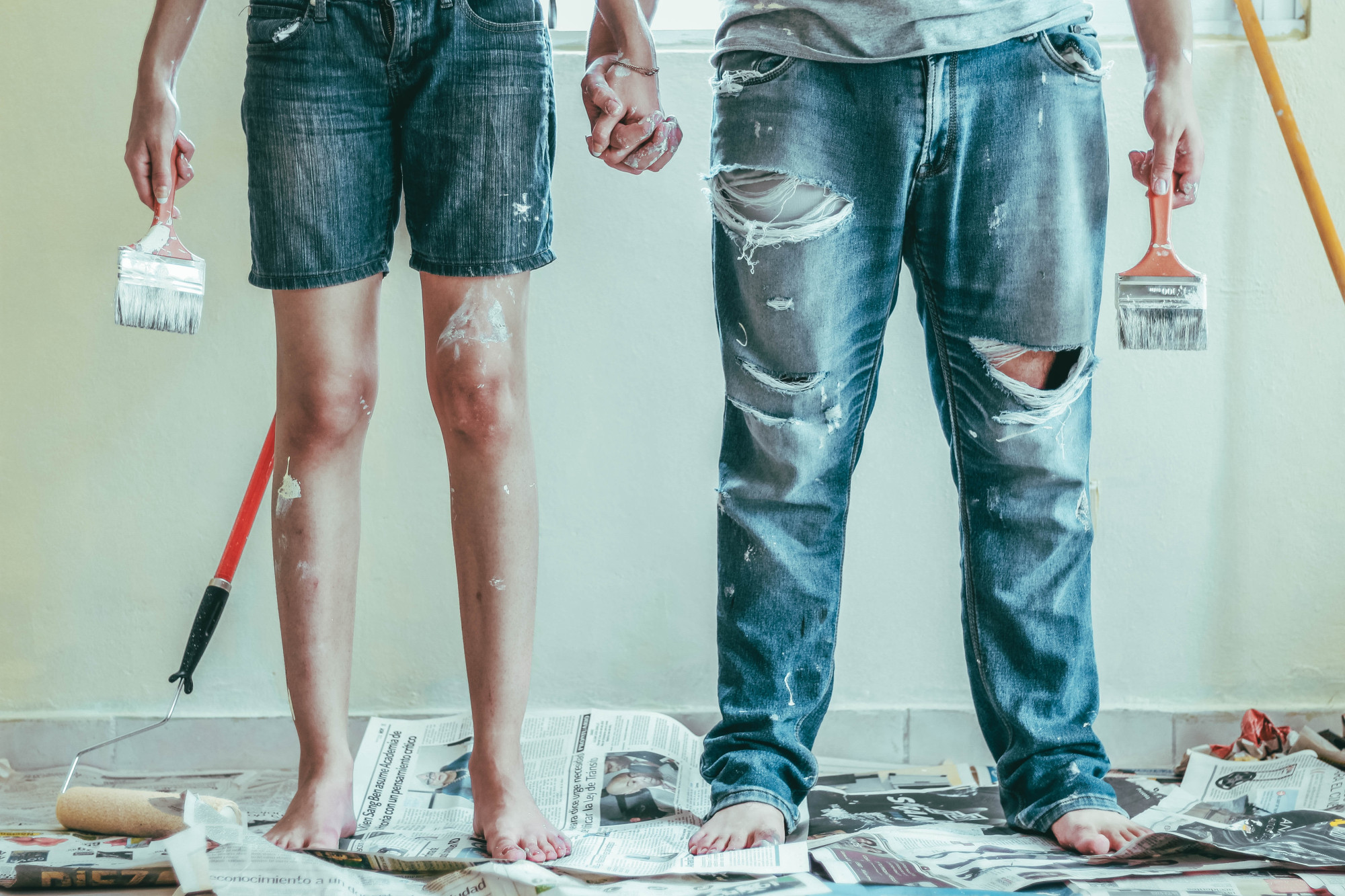 Major Home Updates on a Budget
By: Alicia Hall, Strategic Communications Intern, Nest with the Nelsons
A beautiful home doesn't need to cost more than you can afford! A few simple updates can transform your home into a more beautiful and desirable living space. Designing with intention is the number one rule to achieving your dream design! All you need is a little bit of effort, patience, inspiration, and eye for detail to work on a budget. Designing around a theme with a focus on colors, texture, and focal points will help you elevate the overall aesthetic of your home. Stick around to learn about some quick and easy home updates for your dream design!
Neutrals
If you've been on the look-out for a friendly color that's easy to adorn, neutrals are the way to go! They're perfect for those that are in the midst of finding their vision for a home design. Painting with neutrals will reset your design palette because they work well with other colors and can look great in any room. Neutrals create a timeless look to a space because they promote a sense of visual calmness with their lack of saturation. It complements other colors beautifully and the simplicity of neutrals will not distract the eye from other focal points in a room. They are easy to stylize and will keep the charm of your living space. They work well with any season, almost any room, and will keep a visually calming aesthetic. Consider updating your home by using a neutral color palette to keep a canvas that works with various styles in your home.
Peel-and-Stick Wallpaper: Just Do It!
Peel-and-stick wallpaper comes in various shades and patterns like traditional wallpaper. Not only does it come in various styles, but it's easily installable and affordable! There's no damage to the wall when applied as a design, giving short-term renters or those who enjoy changing up their living space more regularly an opportunity to decorate. This cost-effective alternative is great for focal points in a room if you're looking to design with bold prints with a wide selection of styles to choose from! Choose peel-and-stick wallpaper to save money and time. It's a cost-effective way to personalize your living space.
Paint the Trim
Tasteful trim work can accentuate home features to make them stand out. It can frame your staircase, windows, doorway, walls, and so much more! It makes a home feel polished and refined. Trim work works wonders for those who enjoy experimenting with bolder designs. Use paint trim to make your walls pop with beautiful contrast to the wall color. White is a popular paint shade to work with for a classic, traditional look! If you're looking for a timeless look, shades of white will make elements of your home stand out beautifully. Of course, we can help weigh in on the perfect color to deck out your home, too.
Nest with the Nelsons
does paint consultations starting at just $129, and that time invested with us can save you hundreds, if not thousands, of dollars and tons of time as you prepare to take on home projects of your own!
Matching Items
Maintaining a cohesive design is an easy way to make a home look put-together. Mismatched items can make a place look chaotic and distracting. Pairing colors that work well with each other, in addition to uniform items will keep your home neat and appealing. For instance, matching utensils and colored hardware finishes will make a space look more polished and purposeful. Replacing hardware with newly polished and sleek pieces will also help make your space feel more cohesive. Paying close attention to these details and matching your home items to fit a theme will bring beauty to the overall aesthetic of your space.
Having intention when designing will help you work toward a collected theme for your interior. You may start with more obvious items like a matching pillow set to framed art that complements the colors and textures of your space. Updating hardware in the bathroom with matching towel sets to match a thematic design will help you work with intention. This will effortlessly elevate your home by making it look more refined, too – points all around there!
Entry Focal Point
And last, but certainly not least! Sprucing up the front of your home is a wonderful way to enhance your home's overall aesthetic. It not only gives you the opportunity to smile as you walk in your beautifully decorated home, but keeps your home inviting for visitors. A small garden for herbs and flowers at the front is perfect for home cooked meals and makes for a calming entryway. Just imagine waking up to fresh basil, mint, peppers, and other garden goodies in the morning. Wouldn't that be a dream?! This not only will bring life to your front entryway, but will make a space feel attractive. Elevating the front of your home with matching lounging chairs on the porch by a garden bed will provide more comfort, functionality, and beauty all at your fingertips!
P.S. We help with exterior home refreshes, as well. Summertime is a the PERFECT time to refresh your exterior home color and look. Our exterior home consults start at just $209 for a complete refresh of your home, color palette specific to your project, and a design mood board with coordinating elements to really bring the full look home!
Megan Nelson, Co-Owner + Founder
Nest with the Nelsons
nestwiththenelsons.com
nestwiththenelsons@gmail.com
---
Love your home again with our must-have resources ...
4. Are you a business owner looking to reach new customers?
Check out our Brand Partners page
to learn about our brand partner opportunity and secure an exclusive spot with us.