Aug 22, 2023 12:55 AM Central
Megan Nelson
accessible design, best of omaha, decor, fall refresh, hello fall, holidays ahead, home sweet home, home updates, love your home, love your home again, nebraska mom, omaha blog, omaha mom, omaha ne, omaha nebraska, tablescape, we are nest with the nelsons

Photo by Nicole Ferguson of Nicole Fertography
Exclusive Interview with Owner + Designer of Nest with the Nelsons
By: Alicia Hall, Strategic Communications Intern, Nest with the Nelsons
Goodbye summer, hello fall! What better way to celebrate the changing of seasons than by refreshing your everyday interior. Sometimes it's hard to know where to start, but with design guidance you can turn your dreams to reality! The fall and winter months are full of eventful celebrations filled with fun-filled memories with friends and family. So, why not refresh your space to host and get together these upcoming holiday seasons? Sharing a beautiful space with those you love most will create memories that will last a lifetime. Imagine cooking in a festive kitchen or celebrating with baked goods by the fireside complementary of an interior that uplifts, comforts, and highlights your happiest times! If you are looking towards design advice, Nest with the Nelsons can provide you with all your customizing needs and services to transform your space beautifully for the holidays! Dive into this exclusive interview with owner and founder, Megan Nelson, for some insight and advice with how she approaches a carefully-crafted vision for design.
What are your favorite fall and winter design styles?
Everything cozy, warm, and inviting is my jam as we welcome the fall and the holiday season ahead. Throw blankets, delicious candles, and of course, sprinkles of fall and Christmas decor throughout. Nothing too cheesy, but using the colors of the seasons is a huge way to bring in the season to your home without going overboard. Also floral arrangements and stems to match the season go a long way. Match your mood to the changing season. Your love, care, and eye for detail will show in your design selections with show for the fall and holiday season ahead.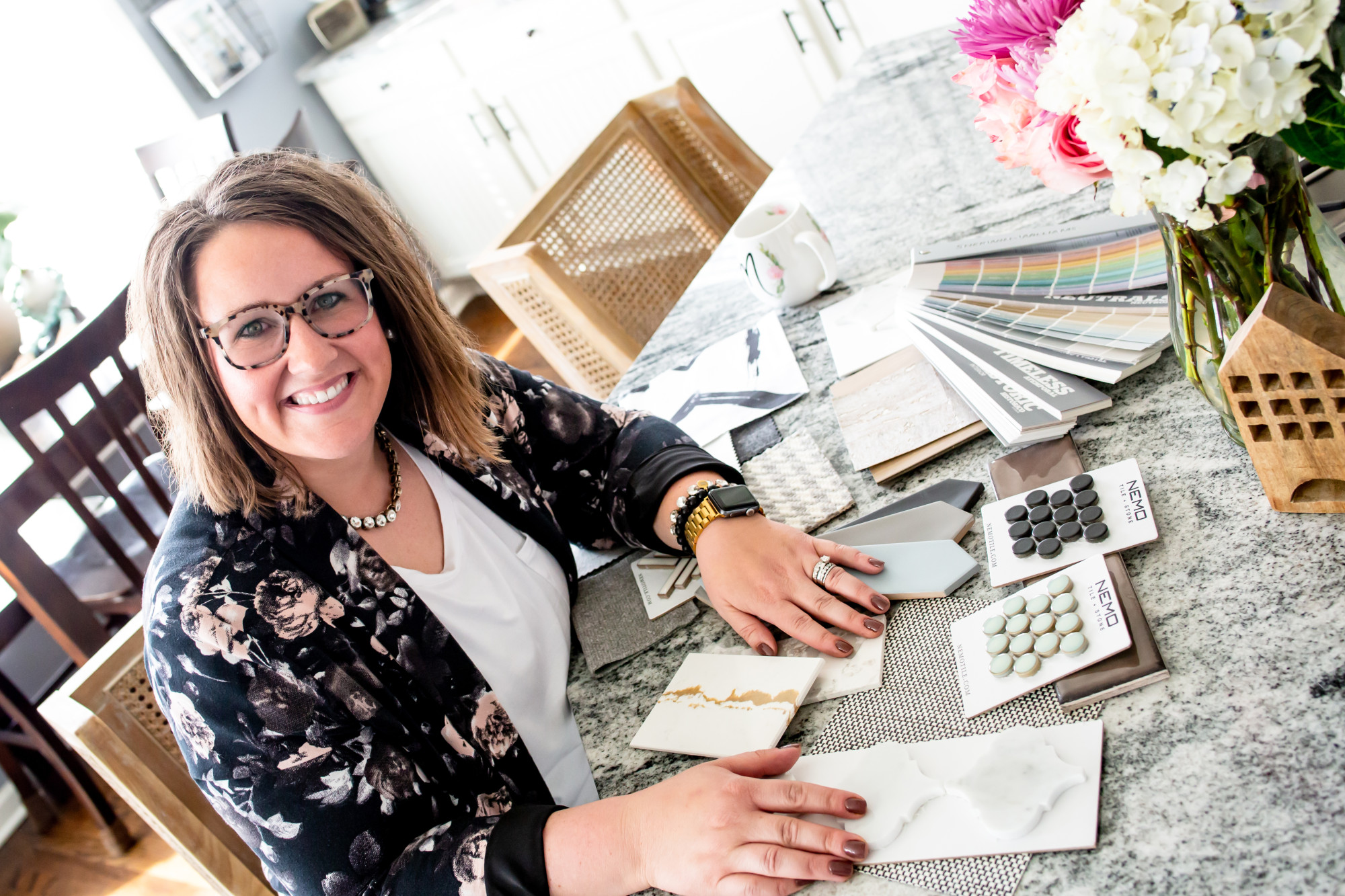 Do you have a favorite design trend of 2023?
Oh this is such a hard question! There were so many great trends we saw this year. New paint colors in burnt pink hues, lots of layers, patterns, too. But, I think one of my favorites that will stick around for years to come is dramatic, oversized lighting. New lighting is such a big way to enhance a space, and it's majorly cost-effective.
How would you decorate small vs larger spaces for the holidays?
For small spaces, I would be sure to utilize the space, but be mindful not to make it seem crowded or too tight with all the additional accessories that the holidays often bring. Instead, for small spaces, incorporate color themes and really play those up, branches, pines, and scents.
For larger spaces, use all of these methods above, along with taking the theme to another level. Carry out your love for buffalo plaid check to your Christmas tree, tablescape decor, runners, gifts, throw blankets and pillows. If your space allows, consider additional Christmas trees throughout. It's always fun to go to another space of the home and see another full-sized or mini tree.
What advice do you have for rearranging spaces to bring holiday warmth and spirit in your home?
Rearrange, but ensure that things aren't feeling too crowded. It's important to still have a good flow from one room to another, and that you and your guests can move comfortably throughout your home. That may mean that your extra ottoman or side table needs to be moved to the basement for the season. But, I always appreciate a little furniture rearrangement to see things new, especially as we head into the New Year.
What advice do you have to decorate more sustainably or in ways that will last for the long-term?
Choosing furniture and decor that you really love and is your personal flair vs. something more trendy will last for so many years to come. It's OK to incorporate some more trendy pieces here and there, but as long as you are totally in love with a piece, that's a good hunch that it will be a winner for you and your home for a long time. Ultimately saving you time and space in your home.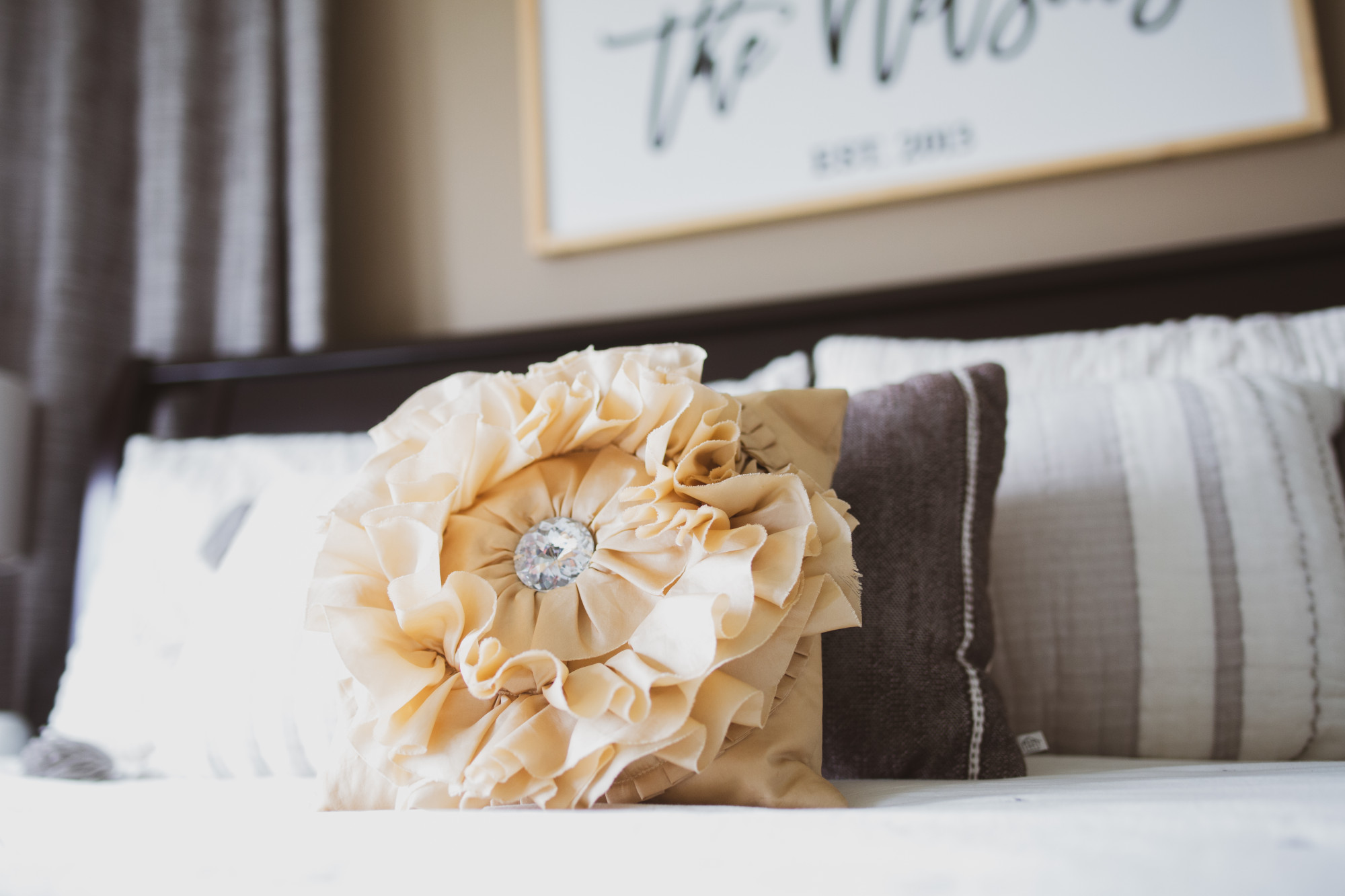 What are a few things you like to switch out to be strategic with items you design with?
I love decorating for the holidays – especially Christmas. But, to save time, money, and space in our home, I usually choose colors to incorporate in looks like swapping out rugs, floral arrangements/stems/vases here and there, tablescapes, runners, throws, pillows, door hangers, and minimal decor. I don't have a Christmas village or a Santa collection. Instead, I focus on colors and patterns I can bring into our home to make it feel festive, warm, and inviting for the holidays without having to store and rearrange our entire home ten times over to make it all fit. Less is more here, with being intentional about where you'd like to make the most impact in your home, and focusing your efforts there.
Lastly, what design services do you offer to prepare for the upcoming seasons?
We offer some great new packages that are perfect for helping our clients prepare for hosting for the holidays ahead.
A great new package we just started offering is our
Ultimate In-Person Brainstorming Session for $499
. This is the PERFECT session to confirm all of your design hunches in person to put the finishing touches on your beautiful home project. This is an opportunity for me to be with you in-person on location to see all of your design considerations, help solidify any final design selections, and help you feel confident to move forward with the curation of your beautiful home design. This session is 90 minutes, to answer any of your final design considerations or furniture rearrangements, home enhancements in-person. We can't wait to work with you!
We always have our per-hour package offerings starting with 5-hour increments to tailor-fit your experience and your home. These packages range from $1,000 to kickstart your design project to $5,700 to totally overhaul your home.
Now is the time to schedule those services, as spots are filling up quickly! Plus, with inventory changing on the daily, earlier (August or September) are the perfect times to start your design project to ensure you will have that stunning dining room table, or that awesome couch before all of your guests arrive!
We can't wait to share more about our design services with you!
Megan Nelson, Co-Owner + Founder
Nest with the Nelsons
nestwiththenelsons.com
nestwiththenelsons@gmail.com
---
Love your home again with our must-have resources ...
4. Are you a business owner looking to reach new customers?
Check out our Brand Partners page
to learn about our brand partner opportunity and secure an exclusive spot with us.